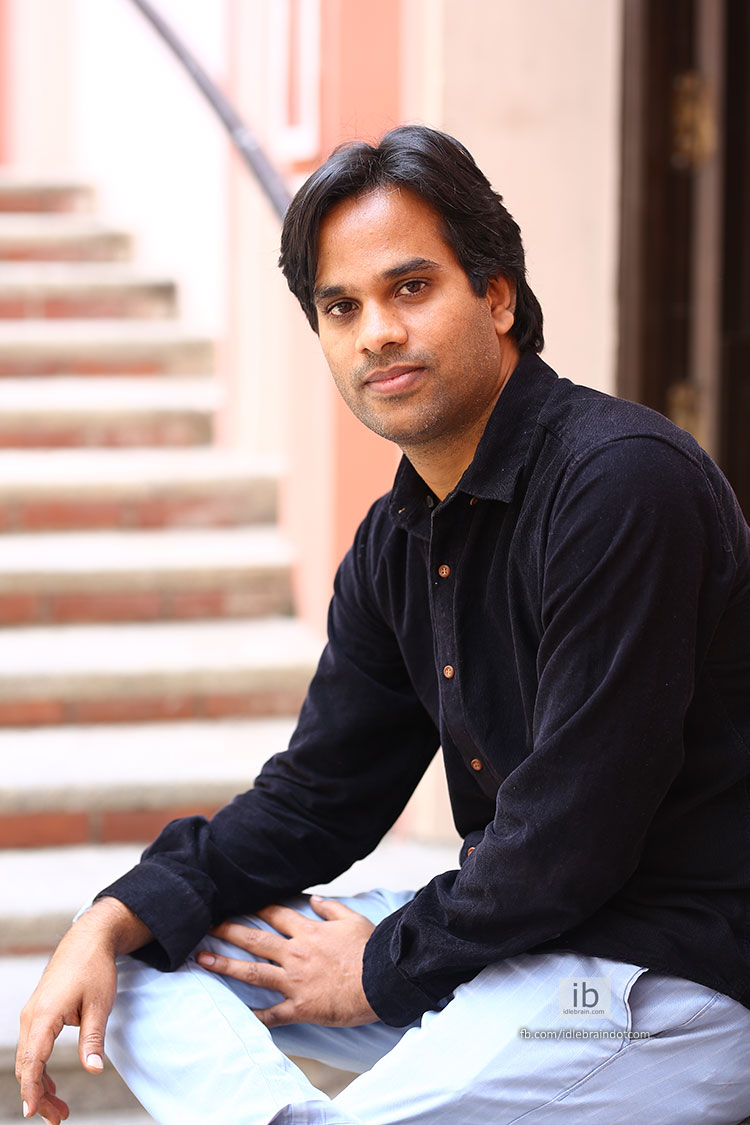 29 August 2022
Hyderabad
Speaking to idlebrain.com exclusively, Anudeep KV gets talking about the continuing influence of Jathi Ratnalu on social media, the inspiration behind First Day First Show, handing over directorial reins to others, hopping genres, next with Venky and more…
It's been more than a year since Jathi Ratnalu debuted in cinema halls but its sway on the social media, meme pages and troll pages is yet to wane. Admittedly, its writer-director KV Anudeep is "happy with its continuing influence" and the pop culture phenomenon it has become. "I want to spread love and joy with my films and I could achieve that with Jathi Ratnalu. In fact, many people who complimented me for the film didn't typically say it was good. They would explain the story, with whom they've watched it and where," the director beams.
The young director is right now in the middle of promoting First Day First Show (FDFS), featuring new faces Srikanth Reddy and Sanchita Bashu. He penned the film's story and screenplay, while Vamsidhar Goud and Lakshminarayana, in a rare occurrence, jointly directed it. Celebrated producer the late Edida Nageswara Rao's granddaughter Srija has turned producer with the flick, which according to Anudeep "is a tribute to movies". "After Jathi Ratnalu, I've met Edida Sriram garu and his daughter Srija. They expressed their fondness for Jathi Ratnalu. I like K Viswanath garu a lot, so I asked them if they could help me meet him once. They facilitated the meeting. During the next round of meetings with them, they asked whether I would want to do a film for their banner. I had to politely decline the offer because I was occupied. However, I told them about the story of FDFS. Vamsidhar pitched it to them later and they liked it," Anudeep recalls, adding that it wasn't intentional from their end to keep the movie low-profile until they've wrapped up the shooting. "We felt it would be of no use if we started the publicity campaign much before completing the film. We felt if we complete the film, lock the release date and kick off promotions later, it would be useful."
Iranian films of auteurs like Majid Majidi and Abbas Kiarostami, whose bona fides dealt with simplistic plots, inspired him to come up with FDFS. Quoting examples like Majidi's Children of Heaven, which dealt with a brother and sister, and their adventures over a lost pair of shoes, and Kiarostami's Where Is the Friend's House? which depicted a conscientious schoolboy's attempt to return his friend's school notebook to his home in a neighboring village, to prevent the friend from being expelled if he fails to hand it in the next day, Anudeep explains, "I wanted to make a good film on a small concept. I had a backdrop and some interesting characters and I was looking at the possibility of making a two-hour film out of it but I couldn't picture it completely. As I started discussing with Vamsi, I felt we can do it as a feature film. Later, we sat with three-four writers and developed it further."
FDFS follows a college-going small town guy Sreenu (played by Srikanth) who is asked by his love interest to help her with the film tickets of Pawan Kalyan-starrer Khushi on day one of its release. His travails in obtaining the elusive ticket back in the day when advance booking was still not in vogue forms the crux. Did he think he had enough meat to proceed fleshing it out further? "You can crack the story of some films from the first scene itself. In fact, love stories are generally the same. The lead pair breaks up right before the interval. Same format… If we fill the story with humour, good characterizations and create strong hurdles for the lead character, we felt it will be strong enough and that's what we did with FDFS," he reasons, adding that the pride with which movie-goers used to watch films of their favorite actors on first day morning show back in noughties triggered him to pen FDFS.
The film opens in cinemas later this Friday, which also happens to be Pawan Kalyan's birthday. Anudeep, however, is quick to clarify that it's a coincidence that their release date coincided with the power star's birthday and that they had no intention of cashing in on his special day. He adds that they are keen to screen the film to the power star whenever he is free. "We just want to see his reaction," he states.
In the interest of the project, Anudeep picked two directors. "Initially, I discussed the storyline with Vamsi. After developing it and as we discussed some ideas, I got the confidence that he can helm it. But then he was a little inexperienced. He only assisted me for Jathi Ratnalu. He, however, is fantastic when it comes to extracting performances. I wanted someone who had that grip on making. Lakshminarayana, whom I've known for the past five-six years, filled that. So I decided to join them both," he reveals.
Any story a director writes is dear to him and chances are that he would want to translate it into visuals, instead of handing it to someone else. Anudeep echoes the same feeling, saying that from the idea stage itself, he felt it would be good if he directs FDFS. "But my timeline didn't allow me to take it up. At the same time, I felt Vamsi will deliver an impact similar to that of mine if he directs. As I was associated with the project at the creative level, I was confident that I would get the output I desired. And so, I handed over the reins," he shares.
So far, his resume is filled with comic entertainers, including FDFS. Prince, his next with Siva Karthikeyan as a director, will be a genre change, he insists. "It's a love story with a generous dose of humour. It will also have some emotional scenes. Moving ahead, I want to break free from comedies and want to do an out-an-out emotional drama," he informs. As far as his next is concerned, he is attached to direct Victory Venkatesh. He impressed the actor with a story several months ago, with Sithara Entertainments set to pool in resources for it. The as-yet-untitled film is believed to have the flavor of Charlie Chaplin and Raj Kapoor's comedies of yore. Shedding light about the progress, he maintains, "I haven't met Venky sir. I've been busy, so is sir. I need to give a narration to Suresh Babu next week and see where it goes from there."
He has also been harbouring dreams of directing a martial arts backdrop film for long. The script, however, hasn't shaped up to his liking. "I would want to do only one martial arts film in my career, so unless I'm satisfied with the script, I'm not going to the floors. I have to sit and pen it from the beginning again," Anudeep, a fan of the IP Man series, ends.
-NAGARAJ GOUD