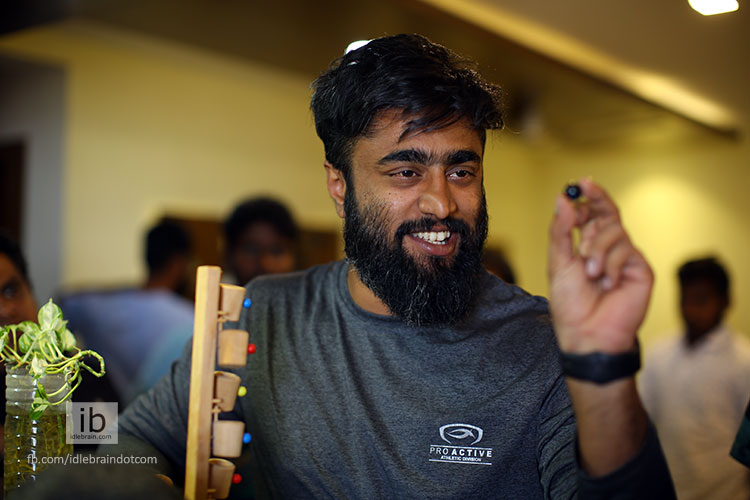 7 September 2022
Hyderabad
In an exclusive conversation with idlebrain.com, debutant director Shree Karthick talks about how the pandemic helped him to better Oke Oka Jeevitham (OOJ), his brush with dancing, the inspiration behind OOJ, finding a producer and getting Amala Akkineni on board
It's been more than three years since Oke Oka Jeevitham (OOJ), a Telugu-Tamil bilingual toplined by Sharwanand, was launched and with the film days away from a silver screen debut, debutant director Shree Karthick believes his "emotions are hiding because I'm yet to watch the film with the public. I guess that's when the emotions will pour out. I'm relieved right now because I've submitted the film. I'm looking forward to D-Day. Maybe on the eighth or ninth, I'll get that butterflies-in-stomach feeling," he quips.
While the pandemic was the major reason for the film's delay, halting it for a long time, Sharwa's Telugu commitments meant the wait got a bit longer. He admits it did bother him as a filmmaker. "There were other films, which were ready for a release. So we didn't get the right date. So it was frustrating to wait," he sighs, "but on the brighter side, I had so much time to improve the film on multiple fronts—like the script, VFX, music and edit. When I saw the film last week, I felt it needed the time it got. During the censor certification, I was quizzed by the authorities whether it was my first film. I could see happiness on their faces after seeing the film. They were kind to me, saying it was an amazing film. Usually they don't emote, right? That is the result of working for many years. Good thing is I didn't break or give up despite the long delay."
Before OOJ, Karthick, a fan of Mani Ratnam and Christopher Nolan, had directed a couple of short films in addition to numerous commercials. Unlike other aspirants who harbour filmmaking dreams at a very young age, his drive to be a storyteller began only five-seven years ago. "It wasn't there from my college days. I'm a dancer. After college, I decided to start a dance class and become a tutor. During some dance reality shows, some of the judges used to say that I act well. That's when I felt maybe I should pursue acting but it didn't go well. Then I realized why don't I write and create opportunities for myself. I started writing and soon I realized that I'm a good writer. I started loving it more than acting. I started writing more and as I wanted to see the written material on screen, I started directing. So the storyteller came in through dancing, acting and finally setting with directing," he reminisces fondly.
It's quite a transition? "Actually, everything is the same," he answers, "The dancers would know… you dance with music and music needs a rhythm. Beats are everything. Even a film is rhythm. Writing a scene is like a rhythm. Without the transition, I wouldn't have been a better storyteller."
His personal life served as an inspiration for the story of OOJ. He was extremely attached to his mother, who he lost to breast cancer in 2014. "It started with the pain of losing her and thinking about time. The time given for her was very limited, so I couldn't alter it to be with her. As that pain was within me for so many years, I wanted to give it out. Then I started writing that emotion. I was reliving with her through the writing and it eventually became a beautiful story. But then I didn't want it to be a mom-son emotional film. I wanted it to be exciting because I was dealing with time, which is science. So I felt the need to do a sci-fi drama instead of an emotional drama. Yes, emotion is at the core but it has to be exciting because we need to go back in time. It's not easy. You can't just say 'cut' and say 'we are in the past'. We needed sci-fi screenplay and new characters. I got the core emotion right and then I mixed all the other elements of sci-fi and brought in the characters of Vennela Kishore and Priyadarshi, both of who are designed in a way that they can resonate with the audience," he explains, adding that its everyone's story because everyone would've lost a loved one, right? "The emotion is common as we are all humans."
Karthick lost his mother even before she could see him as a director and that's the regret he carries. "She knew I would become a filmmaker but she couldn't see my short film. However, I felt her presence throughout the making of OOJ. I could feel that she was designing my journey," he muses.
Once he had a script in hand, he approached multiple producers to pool in resources for the project. While many of them liked it, they were hesitant on his credentials to pull it off. "Luckily, I got the consent of Dream Warrior Pictures. If they get a right script, they have a system in place with which they can bring it alive on screen. SR Prabhu, in particular, fell in love with the script and it became very personal to him as well. That is why during the lockdown the thought of selling it to OTT platforms didn't cross his mind. He felt it was meant for a theatrical experience," he recalls, adding that after reading the script, Prabhu also felt it's not a small film and should be done on a particular scale. "It was he who proposed the idea of doing it in Telugu too."
Was he game for it? He pauses for a second and replies, "I was happy because Telugu audiences too will get to see the film, right? I didn't think about the consequences and said yes, let's do it. It came with its own set of challenges and hard work but it's paying off now because it is opening in three states later this week. For a first-time filmmaker, it's a big thing."
The next step was to get the nod of a marquee name. Prabhu felt Sharwa, who has been his friend for long, was the best bet to spearhead it and got in touch with him and arranged a narration. "When I met Sharwa, he told me, 'I'll just listen to the first half. If I don't connect to it, I will not hear the second half. I usually like such challenges, so I gave my best. 20 minutes into the narration, I could see he was hooked. After narration he hugged me and had one question for me, 'Why did you write this film? I replied, saying I wrote it for my mom. He immediately said yes to my intention. He felt the story was organic and real. Then I shared my journey, to which he said, 'I want to be on this journey man'. Luckily, he was in a mind space where he was ready to share screen space with both Vennela Kishore and Priyadarshi who have well etched roles. Usually they come for comedy portions, right? But in this film, they have a journey, conflict and resolution. It's like three-heroes sharing screen space together. Sharwa was generous enough to say yes to the project because he loved the story," the director notes.
OOJ follows the journey of an ambitious guitar player (played by Sharwa) who, however, leads a soulless life due to a personal tragedy. While he has a girlfriend (Ritu Varma) who is his pillar of support, he still feels a sense of lacuna in his life. With the help of a scientist (Nasser), he soon travels back in time to meet his mother (Amala Akkineni). How he utilizes the second chance forms the crux of the story. "It will be a rollercoaster ride that will glue the audience to their seats and take them back in time. It will give them an experience of life in a very fun, thrilling and emotional way," Karthick, whose mother tongue is Telugu, maintains about the film.
The film marks Amala staging a comeback to Tamil cinema after three decades. A sought-after heroine in the late '80s and early '90s, she bid goodbye to Tamil cinema after the 1991 release Karpoora Mullai. "When I was writing the script, I had just one option and that was Amala ma'am. I like her personality, her smile and the way she talks. She has a certain aura about her. With a gut feeling, I started imagining her as my mother and started writing. When I mentioned her name to the producers, they were worried about whether she would act or not. I've told them to just arrange a meeting with her. The meeting happened. She gave me 40 minutes but I said I need two-and-a-half hours. She said, 'Okay, you go ahead. Let's see how it goes'. She became a baby at the end of the narration. She is proud of coming back to Tamil with this kind of film," Karthick gushes.
He had a whale of time directing her and it was emotionally very heavy for him on the last day of her shoot "because I felt like my mom came and she is leaving now". He points out, "We had a speech at the end of her portions and when I said my mother is leaving, she became emotional. She never called any crew to her home throughout her career but she made an exception for me and my direction team. She made payasam for me. That's the impact the story had on her."
Next up, he has written a few scripts but he is waiting to see the result of OOJ to determine his next move. "Except horror, I want to do all genres," he smiles, adding that he is ready to do a standalone Telugu film as well. "I'm tired of bilinguals. Let's see."
-NAGARAJ GOUD