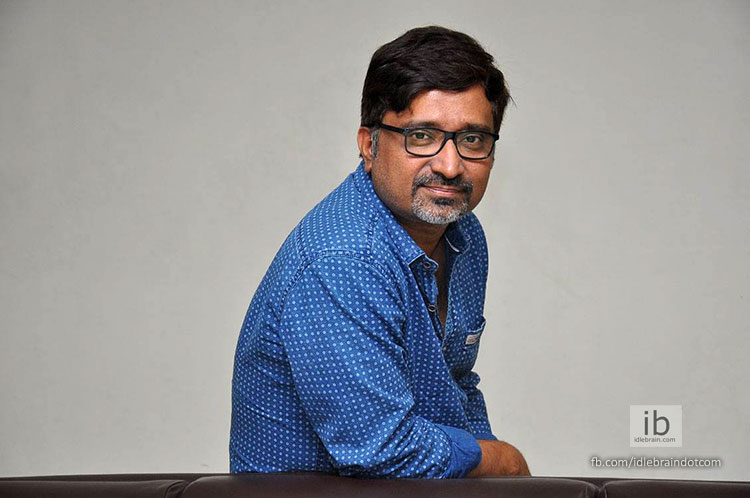 13 September 2022
Hyderabad
In an exclusive conversation with idlebrain.com, Indraganti Mohana Krishna opens up on doing a trilogy of films on filmmaking, his Friday release, Aa Ammai Gurinchi Meeku Cheppali, his writing process, doing a pan-India film, films with Vijay Deverakonda and Naga Chaitanya and much more…
In between takes of his ambitious V, Indraganti Mohana Krishna casually mentioned the idea of Aa Ammai Gurinchi Meeku Cheppali (AAGMC), a drama, to Sudheer Babu, saying that he intends to do it next. The lanky actor was sold with the idea pronto. 'Sir, I'm in whenever you do it' was his prompt response. "To it, I was like, 'Wow, that's cool. But I never thought I would do Aa Ammai Gurinchi Meeku Cheppali after V. I was thinking of doing something else and coming back to it but then things started falling in place quickly because the story started forming quickly. The idea became a treatment and the treatment became a screenplay. Then Krithi Shetty came on board because I really liked her Instagram profile. Her Uppena didn't release at that time. I met her and she immediately connected with the story. I went ahead with her casting. It happened very fast. The only thing that slowed us down was COVID-19. We had to stop five-six months because our cast and crew fell ill," the director begins.
It was his fascination towards filmmaking background that led him to pen AAGMC. "During the making of Sammohanam itself, I thought why not make a trilogy—films about filmmaking. Two films are already done and I think the third film, I'll eventually do something about it but not immediately. I always found the film industry to be a vibrant place with a lot of interesting people and interesting perspectives coming from different social-cultural and economic backgrounds. I found it's an interesting place to tell a story—one can make a career out of just making films about the film industry (actually). There are so many interesting people. It's a microcosmic representation of the world around," he reflects.
For Indraganti, who is one of the best writers around, writing is more challenging than directing. "With directing, there are people who can help you out when you are lost. As a writer, I operate alone. I don't function with a team of writers. I sit and write like I'm writing a novel or a short story. So you are creating everything from the scratch—from the characters to the plot. It can sometimes hit a dead end, which means you have to go back and start from scratch again. With AAGMC, the effort was to not to make it look like Sammohanam. The content is different. One of the primary cares that I had to take was not to have any overlap with Sammohanam. And the other thing is that it's an emotional film unlike Sammohanam, which is purely a love story with humour emanating from the father's role (played by Naresh VK). This is much more an intense kind of drama, while both romance and humour figure quite substantially. It is probably the most emotional film I've made in terms of dramatic impact," he states.
AAGMC narrates the tale of a hotshot director (played by Sudheer) who wants to cast an ophthalmologist Alekhya (Krithi) in his next film. She detests films, especially Sudheer's. She has a past, which actually shows that there is an acting thing in her. But then she has turned her back on films. He has to find out about it and convince her. In the process, he falls in love with her, while simultaneously dealing with her parents who have a low opinion about films. "He has to struggle even more to convince them. How he overcomes them and how she overcomes her demons to do the film forms the story. It is more complex and has much more conflict than Sammohanam," promises Indraganti.
He goes on to explain that he didn't give any reference as such to Sudheer to play a filmmaker. "I I leave it to the actor on how he wants to go about the role. He did his own research and came up with some ideas. I told him, 'I don't want to give any reference. Let's not even borrow from any existing director. Create a guy using your own experience and observation'. Many people generally mistake mannerisms to characterization. They think that if you have a certain kind of mannerism, your character is a certain thing. With his role, Sudheer tried to do it inside out—while playing the physicality of the role, he also tried to know what the person must be, what is going inside his head and why he has a commercial outlook towards cinema. That made the part more truthful for me," Indraganti notes.

Working with Sudheer on the trot for the third time meant that he could communicate with minimal use of language. Indraganti avers, "With Sammohanam we were figuring out a working relationship. With V, it was definitely comfortable. With this film, we were able to communicate rather quietly. We didn't have to intellectualize things too much. We communicated with minimum use of words and he would be there on the same page. It was pretty easy to direct him and for him as well, it was pretty easy to emote."
This is, however, his maiden film with Krithi and he reveals that he was actually worried on how she would adjust to his style. "Uppena had an operatic style of acting which worked well for the film. Whereas my film required her to be an ophthalmologist who comes from an upper middle-class family, with her mother employed with a publishing house and father being a banker. I wanted her performance to be completely grounded— very subdued and very realistic—and burst out when emotions pour out. So I was not sure if she would really adjust, but she surprised me from day one. I think she always wanted to do this inside out part, where she doesn't need to underline a particular emotion too much. She is a natural performer and you'll see the real actress that she is. You'll see a full-blown mature kind of an actor. It was a big surprise for me as I thought I had to do a lot more work with her in terms of tuning her to my style but she took to it very easily," he points out.
There's a dialogue in the trailer, Manam cinema thistunnam anukuntam gaani appudappudu cinemanae mananni thisthuntundi (we think we are making a movie but sometimes the movie makes us) which received much acclaim from all corners. Indraganti admits it came from his own personal experience. "What we are, what we are going through, our anxieties, insecurities and emotional vulnerabilities, sometimes the process of making a film brings it out. That's what actually the character talks about. Filmmaking at its noblest form can do that to people. And it can reveal yourself to you. Every shot we choose, every frame we choose begins to reflect your subconscious self. That's what I always thought about filmmaking personally and that's what it did to me sometimes actually. And then you discover, 'Oh God this is an aspect that crept into the film without my own knowledge'. So that's where the line came from," he says.
For Indraganti, writing is a tedious process and it usually takes five-six months for him to complete a script. "I'm just writing something and it's hell," he smiles, elaborating on his process. "It starts with an idea and sometimes it can start with a random meeting with someone. An experience you had or a conversation you heard. Or a line from a book or a film. For example Anthaku Mundhu Aa Taruvatha came from Se7en, where Morgan Freeman says 'Love is work'. I thought, 'Man, it's a great line to write a movie about'. Similarly, Sammohanam Naresh garu's character happened when I was shooting Golconda High School. The owner of the house where I was filming loves movies. His entire family took leave for two-three days just to witness the shoot. I thought it's crazy and a great character to bring in.
"It (writing) starts off on a blank page and then you write, write and write. You have to write about 300-400 scenes to find those good 60-70 scenes. Some people try to romanticize writing, saying 'I'm creative'. One filmmaker said it mostly happens in his subconscious when he is sleeping. I thought it never happened to me. I would've made 10 more films. I always believe writing is one word at a time. It's like climbing a mountain and looking down, not up."
The buzz word in the industry of late has been pan-India films. Can we expect Indraganti, who has a very good success ratio as a writer-director, to go that way? He observes, "I always believe that a film can become pan-India after it's made. I believe the more local, the more universal. I feel we should focus on our lives, our stories and our characters and not try to cater to what is believed to be a pan-India film. I definitely want to make a film that would be watched by a wider audience but I wouldn't want to think about it while writing the story. Like can I put this for North Indians? Can I put this for Keralites? I don't think it works that way for me. You can cast actors from different languages but that doesn't necessarily make a pan-Indian film. Films should naturally and organically become pan- India films. If they appeal to some of the common emotional or cultural things, it automatically becomes a pan-India film."
Indraganti was attached to do a film with Vijay Deverakonda after V but the combination failed to see the light of day. If the latest grapevine is to be believed then Tollywood heavy hitter Dil Raju is planning to bring them together as both of them are committed to do films with SVC. The maker admits that he had a chat with Vijay about collaborating for "something together" in 2019 but then the "pandemic happened later and everything came to a standstill". He clarifies, "We spoke to each other about doing a film. He even put out a tweet, saying he's looking forward to doing something interesting with me when I wished him on his birthday. In the process of writing, I don't approach people with a storyline; I believe in giving a proper narration. There's nothing concrete about our collaboration right now but yes we want to work together. Till I'm able to pitch something to him…I don't know what his schedules are honestly. Things are making rounds and people are calling me. Some of them include his fans as well. If something comes up we will, but nothing's confirmed yet."

There was also chatter about him directing Naga Chaitanya for production house Shine Screens more than a couple of years ago. "We couldn't decide on what is the right story to do," Indraganti answers, "There are certain things I wanted to do and he wasn't pretty excited about them. I didn't have anything in the genres he was looking for, so we thought let's wait until something happens. For us to do something, both of us should get equally excited. That's where it is. When something comes up from my side, I will definitely pitch it to him. I kind of roughly know what he's looking at, so I need to do something in that zone and pitch it to him."
In his career spanning 18 years, Indraganti has refrained from working with A-listers. The only notable star he has collaborated with so far is Nani, who he introduced as a leading man back in 2008. A huge admirer of megastar Chiranjeevi, he believes that writing for stars requires a certain skill set because of their image. "There are so many parameters that you have to keep in mind. Sometimes something strikes you and you instinctively know that it is for them. But my stories revolve around common man; they don't work on stars. If I have to write for stars, it better have a lot of meat," he reckons, adding that Chiru expressed his wish of joining forces with him. "When I met him long back, he said, 'If you have something, let me know. I'd like to work with new-age directors like you'. But Chiranjeevi garu is Chiranjeevi garu. It's massive. Unless I have something which can really live up to his kind of image, I don't think I have the courage to pitch anything to him."
Superstar Mahesh Babu is also another actor he "really likes". He shares, "After Sammohanam I had a meeting with Namrata garu. She asked me if there's anything interesting for Mahesh as they are very keen but again I didn't want to pitch something that didn't measure up to his image. In fact, I don't want to pitch anything that is underwhelming. I'm waiting for something exciting to pitch him."
He admits he "would be absolutely thrilled to work with either of them. I've realized I've never directed a real big star, which could be an experience. But I want it to be a memorable one. I'd rather pitch something really good," he signs off.
-NAGARAJ GOUD