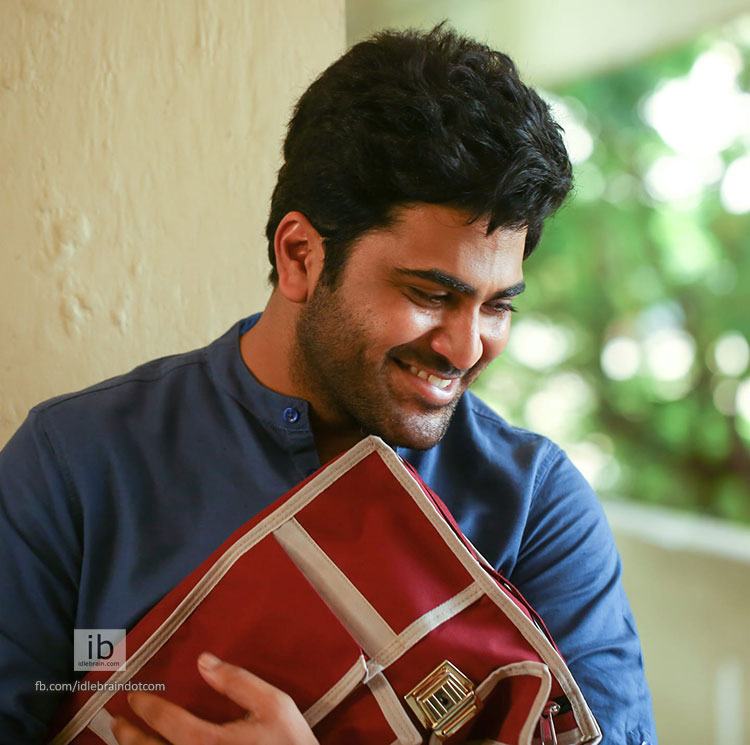 15 September 2022
Hyderabad
Sharwanand talks to idlebrain.com exclusively on the response to Oke Oka Jeevitham, why he is not celebrating the success yet, learning from failures, why playing Aadhi took a toll on him and his next with Krishna Chaitanya
With Oke Oka Jeevitham (OOJ), which released last Friday, Sharwanand has ended his poor streak, as his last six films have failed to light up the box-office. Though the opening is no great shakes, the film is performing steadily at the turnstiles. Naturally, the actor is relieved with the response. "I couldn't deliver a good film in the last three-four years and I'm relieved right now. Its commercial viability aside, with OOJ I was confident that we made a good film and that's what I mentioned in the promotions as well," the actor tells us. He is, however, not in a celebratory mood yet. "I'm promoting the film as much as I can so that many more people will watch it."
Spelling out the reasons behind the "tremendous amount of love" the film is being showered upon; Sharwa notes that "each person's reaction is varying to that of the other". "I can't pin down one reason in particular. People are leaving the theatre with a feeling that they've watched a good film. It is haunting them after going home as well," he points out.
To a question on what the success of the film means to him as its coming after a long while, Sharwa says it's not about hits or flops any more. "It's about sustaining in the industry and doing as many good films as you can. The only reason I could survive in the industry for so long is because of my intention towards my films. I didn't make the worst films. My scripts had mistakes here and there. On the whole, people know that I don't make bad films. I would've gone in another direction if I wanted but I never chose that." What does he mean by another direction? He responds, "In the direction of projecting me as a hero and building on it. If you look at my filmography, you can see I never pushed myself as a star. I've always been script-oriented."
He admits that he was hurt when good films like Jaanu and Sreekaram attracted only a smattering of people but then he doesn't blame the audience. "They (Jaanu and Sreekaram) received so much love when they were released on other mediums but then people didn't turn up to watch them. The theatre experience is something we wish for but I don't blame the audience. Maybe they were not ready to watch that kind of content in cinema halls. We need to change and give the best we can. We should associate with content that brings them to the halls," the actor maintains.
The failures have taught him to be more watchful. "You believe in directors and producers. When I was not okay with certain things, I told them but they would say, 'Trust me, trust me'. Now I can't give that option to anyone because people are coming to theatres believing in my judgment. I need to protect the film, the director and myself. You just keep learning here… we have certain parameters on how far we can go. In fact, we can push keeping in mind our image but you can't mess around with creativity as you never know what's right or what's wrong," he opines.
When Shree Karthick, the writer-director of OOJ, gave him a narration, the intention of the project moved him. "I could relate to all the characters—mine, Darshi's, Kishore's, the kids and my mother. Karthick beautifully narrated on how to live in the moment without lecturing. The moment he finished the narration, I asked him, 'Why did you write this script?' He said he wrote it for his mom. That's it. I said I'm doing the film," the actor recalls, adding that he was impressed with every aspect of the director and believes down the line, he will be the next big thing. "He has knowledge on all crafts; he is bound to reach greater heights."
OOJ is made as a Telugu-Tamil bilingual, with Sharwa being the common link for both the languages besides Amala Akkineni, Nasser and Ritu Varma. Was it taxing to film in both the languages back-to-back? Sharwa mentions that the whole film took a toll on him. He maintains, "During the narration itself, Karthick explained about my role with a great deal of love and I couldn't do injustice to it. Not just my role. You'll see a different Priyadarshi and Vennela Kishore. As actors we generally act but when we have to live the role, it takes time and that's what happened with this film for me."
He makes no bones about the fact that he wasn't comfortable playing Aadhi. "I was never comfortable doing this film. In fact, my parents and friends were bothered about me whenever I've been to a schedule of the film, wondering in what mental state I would return. The film took a lot out of me." Has playing Aadhi changed him in any way? "I think I've become much calmer. At least for now! So let's see how far it will continue. I'm trying to live in the moment and be happy as much as I can. If you can do that, you will be the most successful person," he philosophizes.
When he was leaving the sets on the last day, he felt a huge sigh of relief. "Ammaya aipoindra babu cinema anukunna (I felt Oh God, the film is finally over)! I couldn't live with the character anymore. I told the director, 'Thanks ra babu. I will miss you guys but don't even see me for the next couple of months," the actor laughs.
One grouse that one associates with Sharwa's career is the lack of consistency. He is following a clutch of hits with a series of clunkers and while he is aware of that, he underscores that no one sets out to make a flop, right? "One thing's clear is that I gamble a lot on my scripts. Had I stuck to a commercial metre, I would've been in a good position. But then films like OOJ wouldn't have come out from me. I pick scripts that people will say you will not be able to do or the audience will not watch it. I believe in keep pushing myself," he asserts.
Next up, he will be doing a film with lyricist-turned-director Krishna Chaitanya. Set in the backdrop of Godavari belt, the untitled movie is a political drama with a generous dose of humour and narrates the rags to riches journey of a common man (played by Sharwa). The actor will be speaking in Godavari dialect for the film, a People Media Factory production. "It will be a nice film but when it comes to my character, I'm a little scared… whether I can pull it off or not. I still have doubts, so before we begin the principal photography, we are planning to do a workshop. I'm nervous about it," the actor shares.
In his career spanning 18 years, Sharwa has done a wide variety of roles and if he were to revisit one role again from his rich oeuvre, what would it be? "May be I would do," he pauses and states, "Prasthanam. Well, not because of the role but the story it has."
-NAGARAJ GOUD