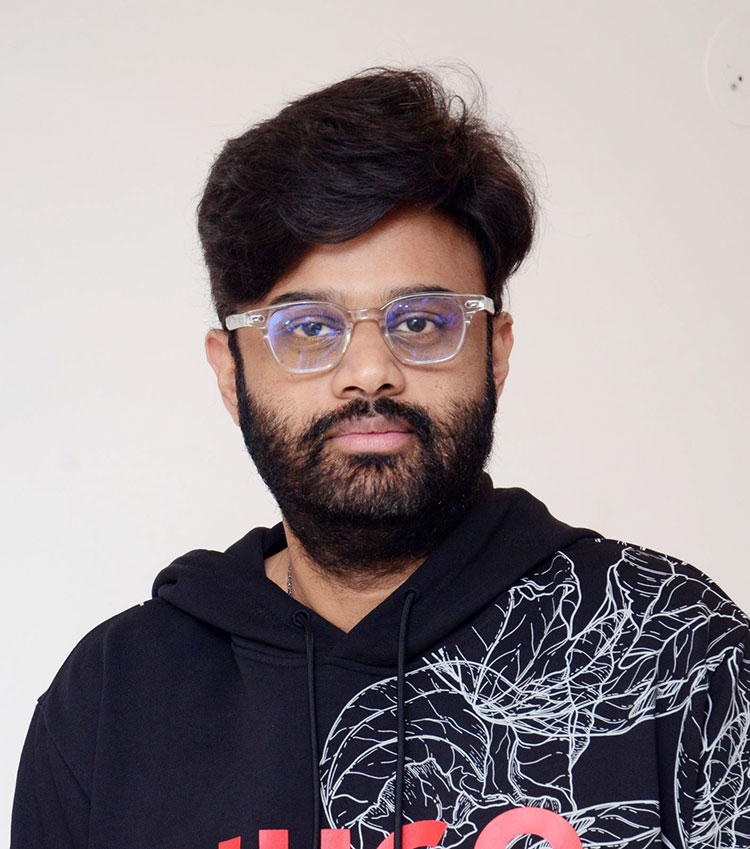 7 October 2022
Hyderabad
disclaimer: This interview was done before the release of Swathimuthyam film
Naga Vamsi is one of the young producers of Telugu cinema who climbed the ranks very quickly. His home banners (Harikaa Hassine Creations and Sithara Entertainments) are one of top 4 prolific production houses in Telugu film industry at present. Idlebrain.com caught up with him in an exclusive interview ahead of Swathimuthyam film release where he opens up revealing everything…
Your uncle Chinna Babu has made a film prior to 2000 and then took a break to come back strong with Julayi?
Yes. He made a film titled Athma Katha way back. Then took a break and came back with Julayi. Trivikram garu has been directing films exclusively for Chinna Babu garu on Haarika Hassine Creations banner Since s/o Sathyamurthy. We had done Julayi in association with DVV Danayya garu.
Film people are known for having tentative associations. Associations change every Friday when a film is released. What is the secret of the Trivikram - Chinababu association which lasted for so many years/films?
We trust Trivikram sir blindly. He also trusts us back. Babai and Trivikram bonding has never to do with films or money. Both of them are alike. They work in silence.
Tell us about your entry into production?
During the planning of S/O Satyamurthy film, Maruthi has approached babai with a small-budgeted script. He called me and told me that we are going to float a separate banner for small films. I am a huge fan of legend NTR and I named the banner as Mayabazar Movies (one of the iconic classics of NTR garu) and produced Lovers film in partnership with Mahendra Babu. After that I wanted to make films on my own (not in partnership) and floated Sithara Entertainments banner.

You have been simultaneously doing big projects and small films. It's easy and comfortable to promote and sell big films. It's a huge task to promote, sell and release small films?
We have got opportunity and time during covid lockdown to listen to a lot of scripts for small budget films. We are confident about the content of our films. As you said, it needs a big effort to promote small films. Buyers also feel like they are doing a favor when I ask them to buy/release small films. We blindly trust content and take some risks. With digital rights fetching decent money, the risk factor has gone down for small films. Yet you need to deliver a film that appeals to the public to maintain brand value.
How do you identify talent?
When the proposal of Jersey came, I watched the director's first film Malli Raava on OTT and was impressed. I was confident that he would deliver great content with Jersey and he gave a national award winning film.
When we give a chance to a debutant director, it would be an easy talk during post production if the director does the right job. Otherwise, it's going to be a big task for the producer and post-production team during post-production time.
Does Trivikram listen and approve stories of all films made on Sithara banner?
We filter a lot of stories at our end and only a story of very good quality reaches Trivikram garu for the final listening and approval. If we have doubts, sir would clarify and give solutions.
What's the reason for casting Ganesh as hero in Swathimuthyam film?
It was Ganesh who approached me with the story and director during covid time. We liked the story and went ahead with the project. It's a fun film. DJ Tillu was the only successful fun film (produced by us only) among the films released this year. This film has the humor we generally see in Pedda Vamsi gari films. It's a modern take on Vamsi style of humor. I feel that audiences would love to watch such films in theaters. Swathimuthyam offers two hours of nonstop fun.
We get to see either hits or flops at box office post-covid. There are no average films. What's your analysis?
That's true. All well made films are getting success at the box office now. Pre-covid, a few below average films used to make money at the box office as people were willing to go and watch films till weekend irrespective of talk. After covid, audiences want to make sure and are not risking coming to theaters. It's about a 30% revenue loss. In order to account for that money, we stopped shoots and held discussions about cost cutting (save on wastage).
Producers stalled shoots and made some resolutions for cost-cutting. Is it useful?
We only come to know the effectiveness of it after 6 months. Films which were launched after the resolution will start releasing after 6 months.
What is the reason for releasing a small film like Swathimuthyam against two big heroes' films?
If the film is good, people are watching it without considering genre/hero/budget. Swathimutham is a fun film that can be enjoyed with the whole family.
Tell us about SSMB28? It's a hattrick film after cult classics Athadu and Khaleja.
I can't reveal the genre now. It will be a massive film. It's been a while since we saw Mahesh Babu in that space (genre and character). The expectations are going to be humongous. You will be satisfied even if you come with the highest expectation.
I never expected even in my dreams that Trivikram would do a bad film. What went wrong with Agnyathavasi?
When Pawan Kayan did industry hit Atharintiki Daaredi, he was a huge star. It was an excellent family entertainer. After that he went into politics. People started to look at him as a demigod. We planned Agnyaathavasi in a fun space. Ahalya episode clicked really well in Atharintiki Daaredi, hence we tried to maximize the entertainment by incorporating more of such scenes in Agnyaathavasi. People were expecting something else (like a demigod stuff) and we delivered a normal fun family film. It was an example of deliverable not meeting the expectations. There was also a lot of mudslinging on the film prior to release because of politics. So many unrelated people were mudslinging on the film. I can assure you that Trivikram garu is not going to repeat it again even in dreams.
You have made amendments with Bheemla Nayak!
Yes. All fans are happy with the Bheemla Nayak film. It was a one-sided film with no repeat value. We had restrictions in terms of ticket prices in AP. Bheemla Nayak did well at the box office despite restrictions.
Lot of people were skeptical about us remaking AK in Telugu. But, when Independence day teaser with 'Rey Danny Yekkadunnav Bayataki Raa' dialogue, the entire scenario changed. That teaser created huge hype.
Telugu films are going places. Are there such films which have scope to go beyond Telugu cinema?
I don't think we can plan and shoot films like that. The product itself would go to places if it appeals beyond Telugu people.
Tell us about DJ Tillu 2?
We are continuing the DJ Tillu character in part 2 and put him in another situation. He gets into trouble because of another girl.
Can you pls tell us about the films are you making and that are on anvil?
Currently we are making SSMB28, DJ Tillu 2, a film with Vaishnav Tej, We are making a college film with 3 new guys, launching Tarak anna's brother-in-law, a film with Naveen Polishetty (shoot from December). We will also be doing a film each with Venkatesh, Raviteja and Balakrishna.
How do you manage to do multiple projects?
We have a strong production team and they have been with us for the past 5 years. But sometimes, the budget tends to go beyond our numbers.
Trivikram has been doing films exclusively for Haarika Hassine and Sithara Entertainments banners. Is he doing any project for outside banners creatively?
Only Fortune Four Cinemas is associated with others as producers. Trivikram sir is not creatively involved in any of the outside projects.
What does Trivikram garu do in free time?
He reads a lot of books. There is always a black and white movie running on his TV.
You are very busy in your profession. What do you do in your free time?
I love playing cricket and poker.