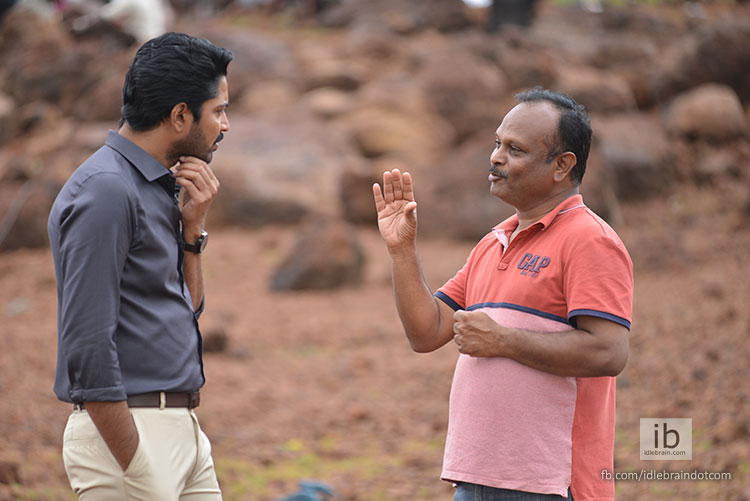 24 November 2022
Hyderabad
Director AR Mohan is a bundle of nervous as his labour of love, Itlu Maredumilli Prajaneekam, fronted by Allari Naresh, is hours away from a big screen debut. The director, who comes from Salem, Tamil Nadu, dubs the film as a content-based drama with bells and whistles. "We told it commercially with dollops of entertainment, emotion, love and good songs. It's not a heavy content film; it will give the audience the feel of a different film for sure," the director, who is married to a Telugu girl, reveals.
Excerpts from an interview:
What prompted you to tell the tale of a poll officer who is tasked to conduct elections in a remote area, something which the mainstream Telugu cinema hasn't explored before?
The story is not about the election officer. Rather it's the story about the tribal village and their struggles. Into this story enters the election officer and how he involves in their problem is the story.
What is the inspiration behind Itlu Maredumilli Prajaneekam?
A picture of a father crossing a river near Adilabad with his daughter on his shoulders pained me. The water reached his neck almost. I saw it early last decade. Upon enquiry, I've understood that he was carrying his daughter to a hospital and the only way for his village to reach the hospital was to cross that river. Later, I saw in news about donkeys ferrying election machinery to remote places. I connected both the incidents to form Itlu Maredumilli Prajaneekam.
What kind of research went into the script?
In India, there is more than eight % of tribal population. When I visited tribal places for research purpose, I found them to be leading a happy life but they lack basic facilities. I discussed the idea with Yash Ramakrishna, who has written more than 140 novels. He is a friend and guru to me. We could soon form a rough skeleton about the story. His inputs helped me to pen the story better. It's a story which demanded us to get out of our rooms and visit tribal hamlets for research. I went to Theni (in Tamil Nadu), border villages between Tamil Nadu and Kerala and spoke to tribal people. I got to know why they were still staying there and their struggles.
When did you narrate the script to Naresh and what was his first reaction?
I've narrated to him last July. Before that I narrated it to my producer who got an appointment with Naresh. In fact, my producer told me that Naresh had heard close to 50 scripts and that nothing caught his fancy. So I was nervous meeting the actor. After the narration, he started discussing the things that happened in his life and his friends' lives. He could relate to the story. He said it was superb and it should be told to the people. After the narration, I took two and half month's time to visit Maredumilli to get an understanding of the place and the people. I discovered that their way of life like other tribal's was the same.
Did he propose any changes as such after the narration?
Not really! In the first half there is a track involving hero (Naresh) and the heroine (Anandhi). He wanted to know more about it as I didn't narrate it completely. I told him there are more scenes and that I will narrate after developing them fully. He told me not to change anything for the hero. Let the character remain the way he is, Naresh garu advised in particular.
The film seems to have an eerie resemblance with Newton?
Itlu Maredumilli Prajaneekam has nothing to do with Newton. You will know once you watch it tomorrow. Also, we can't copy easily these days because of the stringent copyright laws.
What challenges did you face to translate your vision to visuals?
It wasn't an easy film to shoot. The location was not in front of you after you got down from your caravan. The actors had to trek and climb down to reach certain locations inside the Maredumilli and Paderu forests as there was no road connectivity. We had a sequence in water which we shot in February. It was extremely cold at that time. The actors braved the cold and co-operated a lot. At the same time, they enjoyed the shoot. As there was no network connectivity, everybody could talk to each other and bond well. It was like a family vacation at a hill station. We've wrapped up the film in 54 working days. Every frame has many artists and crowd in the background. Ever since we started this February, everyone associated with the film had a positive vibe about it. Everyone trusted the story.
What are you trying to tell through the film?
It is a sincere attempt. It is a film with good content. It's a film that should be watched by everyone. You'll recall so many things from your life while watching the film. It talks about the value of vote but it's not a political film. It also addresses about the pain of tribal villages.
What is the best part of working with an actor like Naresh?
His dedication is next level. Right from the story narration to watching the film yesterday, he followed up on everything related to the film. From the beginning, he was keen on the film shaping up well. Once he steps out of the caravan, he will never go back inside it– even for lunch. He breaks into lunch on location. He is also a director's actor who is very easy to work with.
Going by the trailer, the film seems to have some political undertones. Were you worried about running into problems with the censor board?
There were no questions asked during the censor certification. They gave a small cut. That's it. We didn't come up with the story or dialogues to create a sensation as such. We did what the story demanded. Also, the story and the characters will not draw comparisons with anyone.
Do you think the audiences, post pandemic, are actively seeking content-based films?
100 %. We witnessed it after the pandemic. Take for instance Kantara. It's not a Telugu film but Telugu audience supported it because of its content. That film gave us the hope that we are in the right time.
-NAGARAJ GOUD