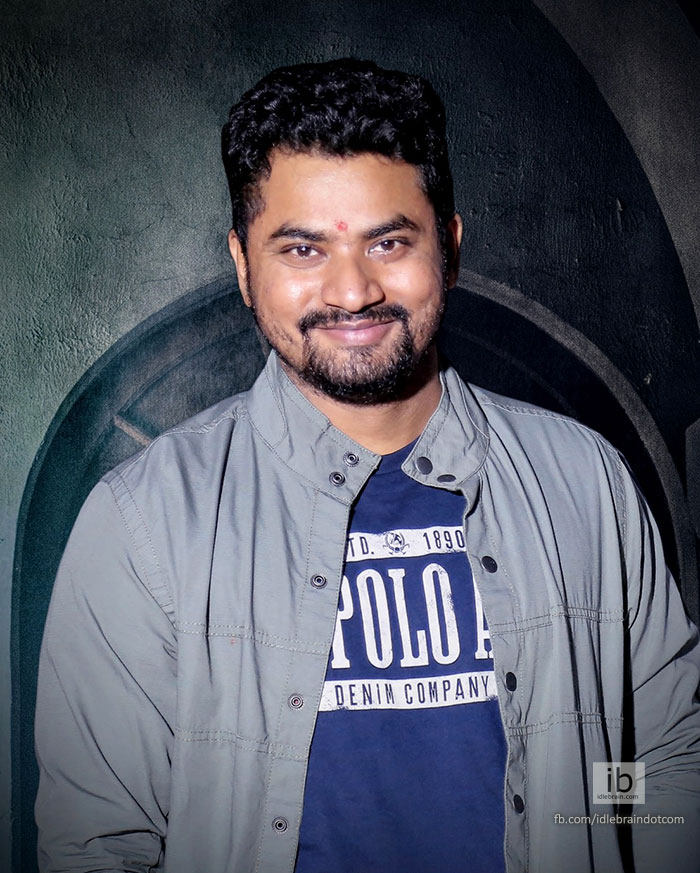 16 November 2022
Hyderabad
With Masooda due to hit cinema halls later this week, Swadharm Entertainment's chief Rahul Yadav Nakka is "extremely busy and nervous as well". "It's natural to be nervous when your baby is coming out; I believe its good nervousness. I can sleep for 10 days peacefully after the film releases," he smiles in an exclusive conversation with idlebrain.com. Masooda narrates the story of how a single mother Neelam (played by Sangeetha) with the help of her timid neighbor Gopi (Thiruveer) helps her daughter, who is possessed with a spirit, get back to normalcy. Excerpts from an interview:
You've delivered two super hits on the trot. Ideally a producer in your position would've made films by the dozen but you didn't.
I read scripts and if I like them, I believe in doing total justice to them. Post Malli Raava, I got some good scripts but I didn't know whether people will allot the time they need. I got used to a process after Malli Raava. I like it; it was very challenging but I liked the kick I got out of it. Then I did Agent Sai Srinivasa Athreya. It was a proper genre film. As a producer, I want committed technicians. I cannot start a movie today and release it six months later. I believe in proper pre-production, workshops, shoot time and good time for post-production. If my product goes through all these processes, I believe it will shape up beautifully. So, I don't know whether the people who work with me will believe in my process or not! For Malli Raava, we got the entire storyboard done. For Agent, we did the storyboard for important scenes. Also, over here we allot less time to post-production. They don't understand its importance. It makes or breaks a movie.
What was your initial reaction to Masooda?
After reading the script, I felt if I can do justice to it, I will be very proud. In fact, I wondered if I could handle the script or not! Because it was set on a big canvas and transports the viewers to a different world. It was an amazing script. The director added proper drama for a horror genre and gave it a beautiful treatment. The purpose of the script is: you don't need a reason to help someone. Initially, I prepared a schedule of 78 days. Later, it increased to 82 days. Due to COVID-19 and other things, we completed the film in 96 days. We shot it in various places and I can proudly say that we translated the written material into proper visuals.
How do you assess a good script?
Instead of including a scene for the sake of it, I believe every scene has to say something. When everything is coherent and in proper flow, you'll get my approval. Every scene has to add something to what we are telling through the film. Plus, I believe a script can't be written in six months. For a beautiful script to come along, it requires at least two-three years.
Are you mostly driven by your instincts when it comes to your choices?
I'm driven by gut. When I read and I feel I got it, I'm in. Plus, I can understand the person who wrote it as well. I can make out if I can go with the script and the guy who wrote it.Of late in Telugu cinema when a character is possessed, the director used it to generate humour. But you seemed to
have stayed true to the genre of a horror thriller?
Personally I don't like horror comedies and I will never do a horror comedy. I'm a true-blue horror fan. Somehow I got Masooda script and I consider myself to be lucky.
What challenges did you face to realize the vision for Masooda?
I felt I haven't done complete justice to the scripts of Malli Raava and Agent. I felt I didn't focus on some technical thing or put my money there. With Masooda, I challenged myself that its cinematography, audiography and music be top-notch and give the viewers a great experience. So for every shot we had many references. We drew the storyboard for the entire script and everyone gave their 100 %. Because of COVID-19, we could give more time to polish the script. The interval and climax portions were difficult to execute. We shot in the apartments of Madinaguda to show the normal life of Neelam and her daughter Nazia. After shooting for some portions, the second wave of COVID-19 hit us. When we went back to the apartments, the residents were initially reluctant because of the large crew we had, but they helped us. Coming to the climax, we've shot it in Kurnool, Cuddapah, Gandikota, Karimnagar, Mancherial, Adilabad, Rajahmundry and Maredumilli. We shot in Maredumilli last December. The temperature at that time was six-seven degrees Celsius. We needed a rain effect for a particular scene involving Sangeetha and Thiru and we hired four industrial fans for the purpose. We tried heating the water but it would come out of the pipe as cold water because of the dip in temperature. The duo had a tough time dealing with the water. The interval portion was tough as well as we needed to come up with a 12-14 feet dump yard. A lot of effort went into it.
What do you think is your greatest strength as a producer?
Well, I don't know… I think one aspect I really like about myself is that I go with my gut. I think my gut feeling is strong. Once I decide on something, I don't go back. I make sure that it happens the way it has to happen irrespective of challenges.
Your weakness?
I lose my temper rather quickly. I'm a genuine person; maybe that's why I get angry very quickly. On sets though, I'm very cool. When it comes to office work, I get mad and scream at people when things don't go as per plan. It's another story that I regret it and apologize to the person who I shouted at. I need to get calmer.
Scripts aside, what excites you the most about production?
Production is very challenging. I came from a background which had nothing to do with the movie industry. I didn't even know the A, B and C of production when I did Malli Raava. I enjoyed watching and reflecting on what's good and bad in a particular film. I didn't know the difference between camera assistants and cameraman assistants during Malli Raava. When a producer invests his money, it's their work I believe. It's sad to see so many movies starting but not reaching a release phase. If a producer is involved in the making of the film from start to finish, the end product will be good. If you learn on the job, it will help you in the future. With me, I want to learn new things. If given a chance I'd be a student for life. I've understood 15-20 % of cinema so far after doing three films. Everybody comes to the producer with a problem but the producer has no one to go to. The ability to solve problems. That makes it challenging and interesting.
All your three films so far have been with first-time directors. Is it something you want to stick to or change in the due course?
I want to stick to it. Post Malli Raava, I challenged myself to introduce four more directors. Two more to go! I want to stick to it moving ahead as well. Launching new directors is making me happy. Gowtam (Tinnanuri) is at a different level now, so is actor Abhinav Gomatam from Malli Raava. Swaroop is at a different place, as is Naveen Polishetty. Technicians from Agent Sai Srinivasa Athreya are also doing well professionally. All these people thanking you from the bottom of their hearts post the movie is something else. If you are a small part of their success – given their talent – the satisfaction you get is enormous.
Do you have any specific goals as a producer?
I don't. I just want to go with the flow and make as many good movies as possible.
Film dynamics have changed after COVID-19 pandemic. What do you think is the state of small and medium cinema right now?
I think it's a good time. I believe COVID-19 has done more good than harm. Now people really want to watch only good movies and not waste their money. COVID-19 has exposed them to different genres in different languages. It has given them an acquired taste now. Take for example Kantara. In Telugu it was released three weeks after it had opened in Kannada. It has made Rs 25 crore so far. Nobody knew Rishab Shetty until then. Keeping aside the cast and crew, good films have always been lapped up by our audience.
It's difficult to make a name for yourself as a producer in the industry as the success ratio is dreadful but you have done it. Does it weigh at the back of your mind when you want to green-lit a new film?
(The question draws a smile) I think I have to do much more. But it doesn't weigh at the back of my mind. I don't take success seriously. I'll take failure seriously if I encounter it. Success is not just your effort alone; it's team work. I'm happy to have been associated with both Malli Raava and Agent. I'd be really happy if Masooda does well as I love the genre. I'm happy that I could do justice to the script.
Now that you mentioned Agent, what's the status of the sequel?
It will happen. Swaroop (director) wants me to introduce a couple of more directors before we begin round 2. The script is going on. Meanwhile, he would like to do a couple of more films as a director as well.
So, it means it will take time?
Agent was really good because of the climax. It surprised and shocked the audience and gave them a high. If the script of the sequel misses the mark by at least 10 %, we don't want to do it. And, if you do the sequel to make money, it won't come out good. We haven't reached the halfway stage yet with the script but if we both sit on it, we can complete it in six months.
-NAGARAJ GOUD