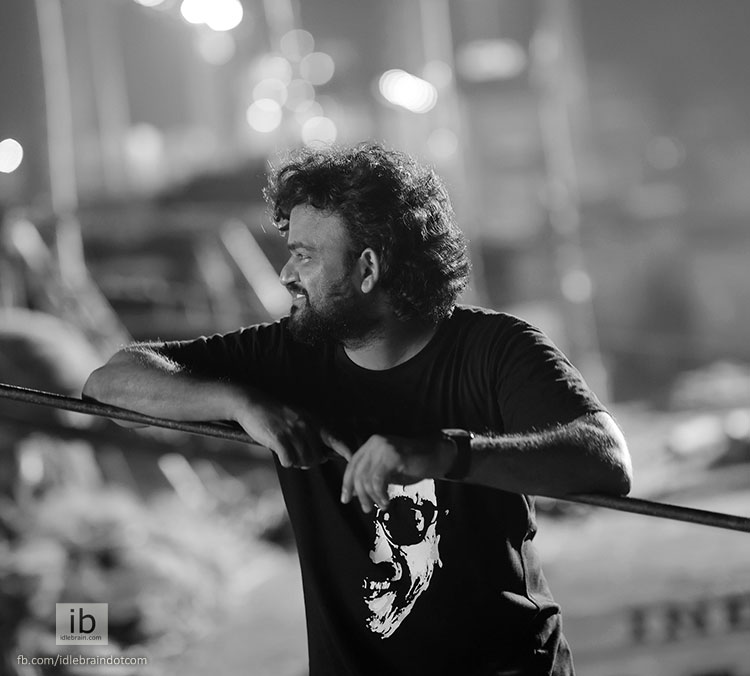 30 November 2022
Hyderabad
Dr. Sailesh Kolanu is confident that HIT-The Second Case will be "a very good thriller that the audience will get to experience" when it sails into cinemas hours away from now. "If you like HIT 1, you will definitely like HIT 2 more," he declares with an air of optimism, "it's a high-quality product we've made in the thriller genre. We have tried to do something else with this genre. Generally, thrillers are only about crime and solution and very less about the personal arc of a person. In HIT 2, we have tried to cover the entire basis with a layer of emotion. Everywhere it will be emotionally riveting. With HIT 1, it immerses you with the procedural and informational angle, whereas HIT 2 is driven with a lot of emotional content. You will see the emotion of the victim's father, you will see the emotion of the life partner of a police officer who is drawn into the gruesome crime and you will see the emotions of the common public when a crime is not being solved. There are so many layers of emotion that run in the film that it offers a wholesome experience. And it's been specifically cut out for theatres."
The Hindi version of HIT- The First Case didn't do well. Did it bother you?
Let me tell you the scenario. By the time I took the film to the theatres, it was breakeven for the producers. And there were no distributors involved with the film. So there was no NRA model. We knew clearly whatever it does theatrically, it will be profits. It may have not made money like Bhool Bhulaiyaa 2 and Brahmastra but it did make money. I wouldn't say it didn't do well but absolutely it didn't do as much as I expected it to do. When I signed the film, the scenario was different. And once the COVID-19 induced lockdown had come, everything had changed. My film was released one year after the lockdown and by then the movie watching landscape has changed. What I didn't know was that the people had already watched HIT 1 in Telugu on OTT. I didn't expect it to penetrate so much. The Hindi version could have done well if the scenario was better. I was very careful with the amount of budget that was given to me. I judiciously used the resources to make sure that the film was done in a controlled budget so that we are not only making but we are saving money. What I did was to take away the pressure of going into the market with a risk. From OTT rights, satellite and music rights, we were breakeven before the release itself.
When you made HIT-The First Case, did you ever think it would spawn into a franchise?
Oh yeah, I conceived it as a franchise. When I was sitting in Sydney and writing, I had a very clear intention of bringing in more police officers later. By the end of 2016, I completed a blueprint of the franchise. It is the reason why I wanted to dive into HIT 2 straightaway after The First Case had released. Once HIT 2 becomes a hit that's when the foundation for a good franchise is laid.
What triggered you to make HIT-The Second Case?
I remember reading a few incidents that happened in the US when I was in Sydney. I have this journal of all interesting crimes that happened around the world. One of the crimes was about a dismembered body. I found it intriguing to find a solution for it. That's where I got inspired from. Then there were other crimes that gave me the inspiration to put nice beats into the film. My stories are not inspired from one crime alone. I always get inspired from multiple crimes and plug them together to form something more interesting.
And what was the writing process like?
It was excruciating because the majority of the work was done during the first lockdown. After the release of HIT 1, I travelled to Rajamundry to meet Nani. I gave him a narration of one-line order and told him about what transpires in the script, for about 30 minutes. He loved it and asked me to write it. By the time I came back to Hyderabad, the lockdown had started. I remember writing the whole script sitting in my balcony, while I had around 15-20 people at home. I used to start after everybody used to sleep at 11 pm and continue to write until 5 am the next day. I would go back to sleep when everyone was up and goofing around.
How important is the research for a procedural drama? What kind of help did you get from our cops?
There is Anil Kumar Pulipati who is DSP in Vizianagaram. He is my single point contact for anything related to AP police. There is Palraju sir who is in the Eluru division. He is also very helpful in sharing the information about procedures and stuff. In Telangana, I have an axis to the headquarters like the DSP and everybody is very helpful. Sumathi ma'am, who is the women safety wing chief, has been of great help. They all have been extremely sweet to me. In fact, they were willing to help to portray the police in the right light –from how they work to what they are at work. They are tired of watching films where their procedures and uniforms are depicted in a wrong way but when a filmmaker like me goes to them and asks them a minute question like what happens after they fire a bullet, they get excited, saying that nobody asked them such a question. When they actually fire a bullet, they are supposed to take the shell and submit it to the department. The department keeps a track of why the bullet was fired and would it not have been avoided! There is a lot of modus operandi behind the way they operate. These are the intricate details that help the script a lot to give it another fine layer of detailing.
What was Sesh's reaction when you first approached him with the story?
The first question he asked me: 'Why me bro when you have done the first part with Vishwak? Wouldn't it send a different impression?' By the time I went to Sesh, I already had a long conversation with Vishwak. I discussed my roadmap for the franchise. Initially I thought of doing the second part with Vishwak but the movie watching experience has changed drastically after COVID-19. If we don't do something unique, people are not coming to the theatres. To follow one character and establish a franchise or to follow a department and establish a franchise where different officers come in and give it a much bigger scale were options in front of me. We both were convinced at one point to take the latter option forward. And then I presented the idea to Nani who loved it. That's when I went to Sesh and explained the same thing. I said, 'Bro, I'm looking at it like Avengers. I want to create my own cop superheroes and bring them together for something very big.' That excited him. He knew I had a valid reason.
What did you learn from Sesh?
I learnt that we should always be the devil in the room and ask questions. Never shy away from asking a question. He is really good with asking questions. He would be vocal about anything he feels needs an explanation. You question things and better solutions will come out. The draft of the script would only get better if you keep asking questions to yourself.
HIT 1 was wrapped up in 51 days and HIT 2 in 70 days. Do you take a lot of pride in wrapping up films at a breakneck speed?
It doesn't matter how long you take. I think it's the clarity of what you want to do, that's what decides how fast you wrap up the film. And also the scale of the film. I think HIT 1 was done in a shorter span because the locations that I was dealing with and the kind of sequences it had were not as complicated as that of HIT 2. Which is why I had to take 20 extra days for the second part. I don't take any pride in wrapping up films faster. That's not the way it works. It depends on the kind of subject you are working on. I'm very clear with one thing: 'I don't waste money irresponsibly'. Where it is needed, I believe in doing it carefully. I have that control with the making.
What was the conversation like with the cinematographer Manikandan before you began the film?
When I narrated the story to Manikandan sir, I think he knew what I was seeing in my mind. Visually I wanted the film to induce anxiety and fear that comes out of suspense; this was my brief to him. If you see HIT 1, the visuals were raw, rustic with a rocky tone to them. With HIT 2, which is set in a seaside town, I wanted those cool visuals. And all of a sudden once a gory crime happens, we need to get into a darker side of the society. And the lighting has to support that mood. Once the crime happens, the film dwells into a dark zone. The brief was: the first 30 minutes should feel breezy visually while the moment the crime happens; it needs to slowly draw the audience into a dark world. Also, the majority of the film happens during the night time, so I needed it to be intimidating for the audience to see.
Viewers are now spoilt for choice, Apart from TV; we have films and web series. Do films need a pull factor more than before?
I feel so. You need to give the audience a reason to get them out of their homes, use a car or a bike and travel all the way to a theatre and purchase a ticket. It's like they are giving half a day to you. Why should they do that when they have 100s of choices at the comfort of their couch? So unless you are doing something theatrically for them, highlighting the community experience of watching the film, I don't see why they should travel to the theatres. It's high time that we are on tip-toes, thinking and clearly making a choice whether a particular film is meant for theaters or not. With HIT 2, that's what we did. We started right after the first COVID-19 lockdown, so we knew that we had to up our game – our visuals and sound design had to be top-notch. With the story as well, we had to bring in a lot of emotional layers to make it more universal.
You've worked on three HIT films so far. Are you keen to move out of the genre and try something new?
No, not really! It's not boring at all. I don't think I feel that way because this is my baby, this universe is what I wanted to do. I want to do other genre films as well. For example, after HIT 2 I have a couple of them lined up. It's a matter of finding the right time slot to execute them. Most of my other scripts were written even before my debut film. All the ideas are drafted. It's just a matter of writing dialogues. At a philosophical level, I believe you don't get to choose. Stories have a life of their own and they find their people – be it the director or the actor. Only finishing the script is under your control. After that the script will connect to the right person on its own.
Is there a genre that you like the most but are afraid to do?
I haven't thought about it. That said, I'm not afraid to touch any genre. I feel that to be able to direct any genre what is needed is the knowledge on the dynamics of a screenplay. If you know that it is the bread and butter of making a script work, you can do any genre.
-NAGARAJ GOUD