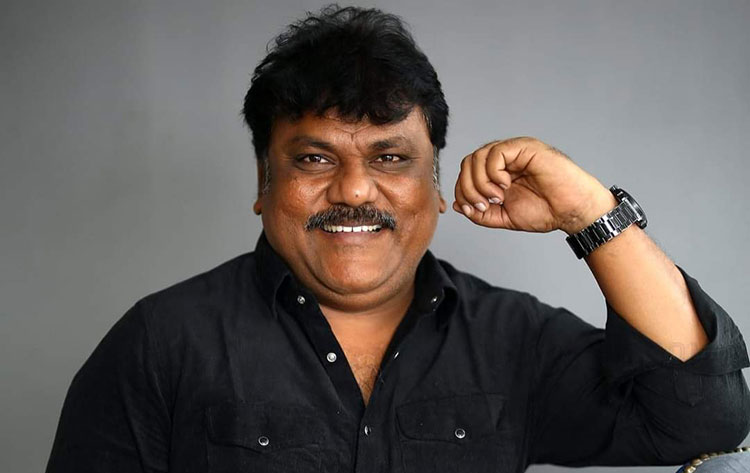 21 December 2022
Hyderabad
Director Trinadha Rao Nakkina will be hoping for a hat-trick with Ravi Teja-starrer Dhamaka, which opens in cinemas this Friday. His previous two films– Nenu Local and Hello Guru Premakosame (HGP)–have been profitable ventures. In an exclusive conversation with idlebrain.com ahead of the release, he spoke about the long gap after HGP, genesis of Dhamaka, collaborating with writer Prasanna Kumar Bezawada, dearth of writers in the industry and his journey thus far. Excerpts from the interview:
Nenu Local was a blockbuster. Hello Guru Premakosame did reasonably well. Yet it took a long time for you to make your next?
There are many reasons for it. We thought of a film with Venkatesh garu and spent a lot of time on the script. But due to some problems, it didn't take off. Later, COVID-19 struck. In between Ravi Teja garu ok'd our project but he had to complete his existing commitments that were put on pause mode due to the pandemic. I had to wait. Next, the second wave hit us. I had to wait once again. Even I felt sad because I had delivered hits in a row but then the situation was beyond my control.
What's the genesis of Dhamaka?
When writer Prasanna Kumar Bezawada narrated a particular storyline, I felt Ravi Teja was apt for it. I advised him that we should pitch it to him before developing it further. Else, we will waste another year sitting on it like last time around. We approached Ravi garu and he liked the line. Also, he was interested in working with us, so everything went smoothly. He asked us to get into detail. We worked on the script and gave him a full narration after some time. He suggested two-three corrections and asked us to correct them during the filming, while simultaneously informing us to plan the shoot.

What was your assessment of the storyline?
I thought it had the potential to be a signature Ravi Teja entertainer. I felt it will work out and we should proceed with it if the actor green-lights it.

Once Prasannna completes his work, do you sit on it and develop it further or do you consider his work to be final?
It will definitely be up for group discussion. Monopoly is always a problem. If a team sits on it, the better it is for the script. For every film of mine, we sit on the script.

This is your fourth collaboration with Prasanna on the trot. How has your relationship with him evolved over time?
Our wavelength and ideology is almost similar. So is our comedy timing. It is the reason why we gel well. Cinema aside, in regular life as well our comedy timing runs similarly. We are mostly in the entertainment zone, so there are no big problems.

How do you attend to creative differences?
Those are common and the profession is such that everybody encounters them. In fact, we both had more creative differences with Dil Raju garu. We fight for the script; we don't take it personally. After all, it is for the betterment of the film, right?

Rowdy Alludu seems to be an inspiration for Dhamaka…
Yes, even Prasanna said the same in an interview earlier. The genre is the same but Dhamaka doesn't delve into uncle-son-in-law play. It has a father-son emotional angle. How a son fulfils his responsibilities as per the word he gave to his father forms the gist.

Talk to us about the film…
It's a mass entertainer. Ravi Teja's brand of cinema has been missing of late and I believe the audiences are waiting to watch him go back to his strong zone. Dhamaka is that film. The story is right up his alley. At the same time it bears my stamp of family emotions. It's a perfect film for family and youth with no dip in entertainment levels. Bheems has done a fantastic job with the music. He is a good music director but somehow luck was not on his side. He, however, made full use of the opportunity this time around. Every tune he gave, I could visualize Ravi Teja in my mind. People will also enjoy Sree Leela's dance and performance. The film will meet the expectations of the audience. It's a 100 percent guarantee.

Did you ever think Jinthaak would become a chartbuster?
Yes. When the tune was done, I felt it would be a massive chartbuster. We did the tune in Vizag. Bheems would use a pad or table to hum the song. He used the word Jinthaak, which I felt could be a perfect hook line. Immediately I felt it would penetrate into the masses. After the tune was done, we would hum it for 10-15 times. Without our knowledge, we could see our energy levels rise.

What is the best part of working with an actor like Ravi Teja?
Personally, he is a good human being. He has utmost clarity with regards to what he needs to do and expects the same from us as well. I had a great time working with him; I enjoyed it like a viewer. He is an extremely positive person and doesn't let negative energy come near him.

All your films so far have been in the commercial space. Do you want to deviate slightly and associate with realistic cinema?
Yes, I have such plans. If you do films in the same genre, you will get bored at one point. But then there is the question of courage because in the commercial space, you've been doing well. However, I have to do a realistic film and I will do it soon. For example Kantara is set in a realistic space but it had a wide commercial appeal. I want to change my trend. Maybe I would do an action drama in a realistic space.

Prasanna will soon be debuting as a director. How do you feel about it?
I'm very happy. I keep telling my assistant directors to not work under me for a longer period of time. In fact, I gave an assistant director billing to Prasanna for Cinema Choopista Maava. When he wanted to know why, I told him, 'You'll understand its value in the future'. He will be a successful director for sure. His writing skills are very good. I'm aware of the story he is directing. I advised him to do proper research and execute it carefully.

With him branching out to direction, will we get to see you both work together again?
Why not? If we get a good script, we will definitely work together. We don't have any rules or boundaries with regards to our collaborations.

As a director do you feel there is a dearth of writers in the industry?
There are writers but their thoughts are not up to scratch. I keep listening to stories often. Many are writing well but their thoughts are in regular format. Writers who think of fresh ideas are less in number. And such folks are busy. Yes, there is a dearth of writers. With me, if I like a story idea, I'd like to change it to my style and I will tell the writer beforehand about it.

Is there an actor in the industry who is your childhood idol and who you want to desperately direct?
After coming to the industry, I wanted to work with three people. I've worked with two of them so far: Nani and Ravi Teja. Next up, I'm waiting to direct megastar Chiranjeevi garu. I've grown up idolizing him.

It's been close to a decade since you've turned a director. How do you look back at your journey?
It has been a beautiful journey. I might have struggled initially but I moved ahead enjoying the results. I'm happy right now. I've been achieving the targets I've set for myself one by one. I'm growing step by step.

What next for you as a filmmaker?
I have to honour my old commitments to Mythri Movie Makers, Dil Raju and Vaishnav Krishna. I also have a project with Satyanarayana Koneru.

-NAGARAJ GOUD