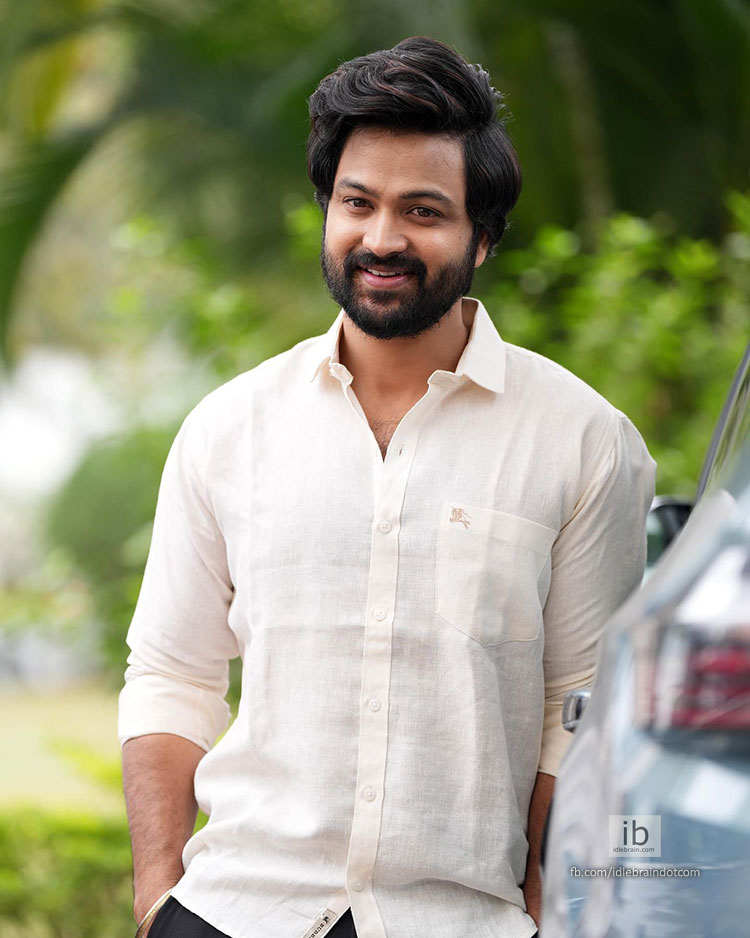 28 December 2022
Hyderabad
Speaking to idlebrain.com exclusively, actor Syed Sohel Ryan discusses his stint in Bigg Boss 4, the struggles he had faced in the run up to landing BB4, his dad, Friday release Lucky Lakshman and where he wants to see himself five years from now
Syed Sohel Ryan, who was one of the top three contestants of Bigg Boss 4, admits that life changed completely after his stint in the reality show. "I played well from first to last but especially the finale changed everything for me. If it wasn't for Chiru sir and Nag sir in the finale, there is no Sohel. They've motivated, encouraged and appreciated me. It is because of them the finale has got to a certain level and now Sohel is remembered," the lad, who comes from Godavarakhani, begins in an exclusive conversation with idlebrain.com.
To begin with, Sohel wanted to be a dancer/choreographer. "I never thought I'd become an actor. As I danced to more and more film songs, I felt the need to be an actor," he points out, adding that he is a big fan of megastar Chiranjeevi's dancing style. "I also like Jr NTR garu a lot. I remember dancing in front of the mirror and at festivals like Ganesh Chaturthi to megastar songs like Chai Chatukkuna Tagara Bhai, Dai Dai Damma and Kodithe Kottalira Six Kottali."
Sohel wanted to be a part of Bigg Boss 3 and tried to get in as one of the contestants but his efforts didn't yield positive results. In fact, before season 4 he did a serial called Krishnaveni for MAA. "For season 4, I rang MAA TV Raghu everyday for a month to let me be a part of the show. I literally tortured him. It was through his aid I entered season 4," he laughs, "I'm a very stubborn guy in general. I don't sleep until I get what I want.
Sohel had to endure his share of struggles to be where he is right now. "There were financial issues. I would get Rs 40,000 from the serial from which I used to send Rs 10,000-15,000 back home. When I was short on money, dad would send me Rs 3,000 per month. I used to borrow money from my friends as well. In fact, before landing Krishnaveni, there were times when I ate rice with only pickles for days. That period was tough. I still discuss those days with my friend Rakesh. We (Rakesh and another friend) would buy a Rs 10 curd packet and make buttermilk out of it and eat rice. I'm a fantastic cook. I can even make curry out of coriander and curry leaves. I know how to survive," the actor exults.
In fact, when he wanted to try his luck as an actor, there was some resistance from his family. "Coming from Telangana and at the same time being a Muslim, there were certain restrictions from my uncle's side. But I was passionate about films. I grew up like there was no difference between Hindu and Muslim. That's what my father taught me. Also, Godavarakhani doesn't treat people differently on the basis of their religion. I can speak Telugu because I hail from Godavarakhani. My dad supported me more. He would say, 'Do whatever you like'. He is my secret to success. After he got an open heart surgery done, I was asked to take over his job. Around the same time, I got a serial offer and I accepted it. I survived because of it," he flashbacks.
So, what happened after BB 4? "I was shocked to see the turnout that welcomed me post the show. I was a zero who got no proper recognition despite a decade of toil. Now, even small kids know who Sohel is. When I was doing the serial, I wanted people to recognize me desperately but it didn't happen. But after Bigg Boss 4, I was approached to headline 40 stories. However, I accepted Mr. Pregnant. The director was my friend and it was a passion project," he notes.
He spent a year on Mr. Pregnant, investing all his energies but then the film, despite being wrapped up, is yet to open in theatres. The producers of the film wanted it to do some business but as it didn't do so, it was kept on hold. Sohel's got a bone to pick with the producers and the OTT platform that is delaying the film – after all "I gave my best to the film", even promoting it extensively. "I'm really upset with Mr. Pregnant producers. But then they aren't at fault. They got in touch with an OTT platform and the latter is delaying the film. At the same time, the market hasn't opened for me yet and it will happen only after the film releases, right? But the producers are expecting business before the release. The OTT platform has negotiated with the producers over money but they haven't entered into an official agreement. They keep repeating, 'We are ready, we are ready' and are delaying the process," he sighs.
Sohel is right now looking forward to Lucky Lakshman, which opens this Friday. Co-starring Mokksha opposite him, the film marks the directorial debut of AR Abhi, while Haritha Gogineni has produced it under Dattatreya Media Guaranteed Limited. "Mr. Pregnant is a unique subject. Bootcut Balraju is a mass entertainer, while Organic Mama Hybrid Alludu is a family entertainer. So, I was on the lookout for a cute love story and that's how Lucky Lakshman happened. It narrates the tale of a guy who doesn't do anything but luck constantly favours him. How he understands the value of relationships etc forms the story. I found the subject to be relatable to everyone and so, came on board. The other reason was the producer and the director. They were very enthusiastic about the concept and were very good with their planning," he shares.
Giving a peek into his Lakshman, he reveals, "The character transforms from a college-going guy to a lover boy to a businessman. There's an emotional angle to it as well. At times, people will fail to understand what he is really up to."
Five years from now, Sohel believes "the whole country will get to know who he is". He asserts, "India will talk about Sohel being a good actor. I want to do different scripts irrespective of the language. I want to be a complete actor."
While he has Bootcut Balraju and Organic Mama Hybrid Alludu lined up next, Sohel is also eying "next-level subjects". "I have a Singareni subject which costs Rs 15-20 crore to make. Nobody will put such money on me right now. If my present films do well and if I get a good name, I want to do the Singareni subject. Let's see," he signs off.

-NAGARAJ GOUD