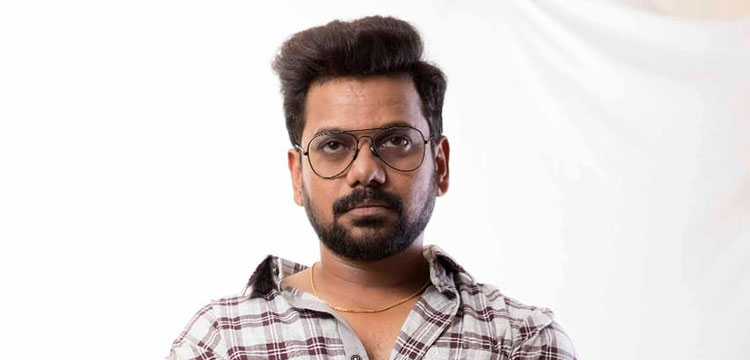 30 December 2022
Hyderabad
In an exclusive interview with idlebrain.com, writer-director Anand Ravi talks about what triggered him to pen Korameenu, why he handed over the directorial reins to Sripathy Karri, his writing process, writing for others, sequel to Prathinidhi and much more…
Writer-director Anand Ravi beams with positivity speaking about his December 31st release Korameenu. He believes he has a winner in hand but is worried about the initial. "If at least 30 percent people walk into theatres on day one and if the word is mouth is good, then the film will go to the next level," Anand tells us.
Planting his flag as a writer with Nara Rohith-starrer Prathinidhi (2014), Anand took a long time to make his next after Napoleon, which marked his debut as a director. In between, he announced a venture, Zindabad, which would've touched upon several social, contemporary political issues but it had been put on the backburner a week before it was to hit the ground running. "Due to some financial issues, it didn't go on floors. Later, COVID-19 held me up," Anand sighs.
Set in the backdrop of Jalaripeta,Vizag, Korameenu features Anand, Harish Uthaman, Shatru and Kishori Dhatrak in the lead roles, while Sripathy Karri directed it. Women's self-respect triggered Anand to pen the film. "A single woman with kids is generally viewed differently in society. She is looked down upon by others. The story was born out of such perceptions. The film deals with one-upmanship, ego and love," he informs, adding the title has connection to the story. "Korameenu is a celebrity fish and everybody knows about it. When you name a film after a fish, it will inadvertently register in the minds of people that it's a film based on the fisherman community. Korameenu has a long moustache. Our film commences with cop Meesala Raju (played by Shatru) removing his moustache. The heroine's name in the film is Meenakshi, while the hero Koti (Anand) addresses her as Meenu. So, there's a link with her role as well."
Shedding light about Koti, Anand shares, "He is not ambitious. He is a good natured guy who works as a driver under a rich man from Jalaripeta. He is in love with a girl-next-door but she doesn't reciprocate his feelings. However, he takes it in his stride. He doesn't overreact. When his boss (Harish Uthaman), who doesn't differentiate between human and fish blood, demands to sleep with the girl he wants to marry, the story gets into thriller mode and throws surprises at every turn. Thrillers are generally not high on songs but this film transforms from a beautiful musical love story to a whodunit."
After Napoleon, Anand was keen that he concentrated only on writing and acting, which is why he handed over the directing baton to Sripathy Karri. "With Napoleon, I felt I was doing a good job as an actor but I realized that someone should tell me, 'this is not good and your body language is not up to the mark.' In short, I wanted someone to guide me, so I was on the lookout for that person. Sripathy has been travelling with me since my first film. He already directed a film called Hulchul. Additionally, he had written a script in the same Jalaripeta backdrop, so he was aware of how people speak and behave from the place and knew the localities. He comes from the same place as I do: Vizag. Taking all these factors into account, I handed over the project to him. He took a week's time to give his nod," Anand recounts.
As a writer, Anand believes that "whatever he writes, people should talk about it for at least a decade". He elaborates on his writing process, "Prathinidhi will complete a decade in another 16 months and people still talk about it. Same is the case with Napoleon. People will also talk about Korameenu for ten years. The story format is the same everywhere but your observation towards society makes the difference. I slightly change my narrative style and try to tell the story in a new way. Ideas run in my brain continuously. When I go somewhere and if someone talks about something that connects to my idea, I think of it more. I don't put pen to paper at that time. Rather, I imagine. Earlier, I used to write in a short span but now I'm taking 30-45 days to complete a script. I spent two-and-a-half months thinking about the Korameenu story, while I finished writing the script in 10 days. Prathinidhi was completed in less than 24 hours. I went to a friend's flat in the evening and by 2 pm the next day, the script was over. I later sent the bound script to Rohith garu."
After Prathinidhi, he hasn't collaborated with other actors, preferring to act in the scripts that he wrote but he is open to the idea. "I did Napoleon because I felt someone else might make the idea into a short film. In fact, I want to write for other actors as well. But the thing is once I finish the script and present it to the director/ producer, I don't fancy coming for discussions, corrections or narrating the story to others. I want to move on with my other stuff. If you have to go for corrections, you have to go at the convenience of others. If I bother about my comfort, there would be whispers whether I've become a celebrity or what? It is the reason why I want to write for my friends. I want to stay within my comfort zone," he reveals.
He understands that as an actor, he is still a work in progress. "As it was an innocent role in Napoleon, I went ahead with a stubborn attitude. I didn't learn acting completely. I don't play a hyper guy in Korameenu. I designed it according to my body language. When the director told me, 'how about doing it this way', I understood I was in minus as far as acting was concerned. Right now, I'm in the process of learning acting. I want to interact with theatre arts students and develop more as an actor by the time the next film begins," he points out.
Prathinidhi is one of the most memorable films of Nara Rohith's career. It's a very relevant film for today's times as well. Didn't he ever think of a sequel to it? He responds, "It was a dialogue-oriented film. It had a certain tempo because it was a kidnap drama. I've driven it with Manchodu Sreenu. The hero doesn't have a name in the film. You can take characters from the film and make Prathinidhi 2 but you can't continue the story as a sequel."
Up next, he has a couple of scripts in mind but will take a call on which one to take forward after assessing the box-office performance of Korameenu.
-NAGARAJ GOUD