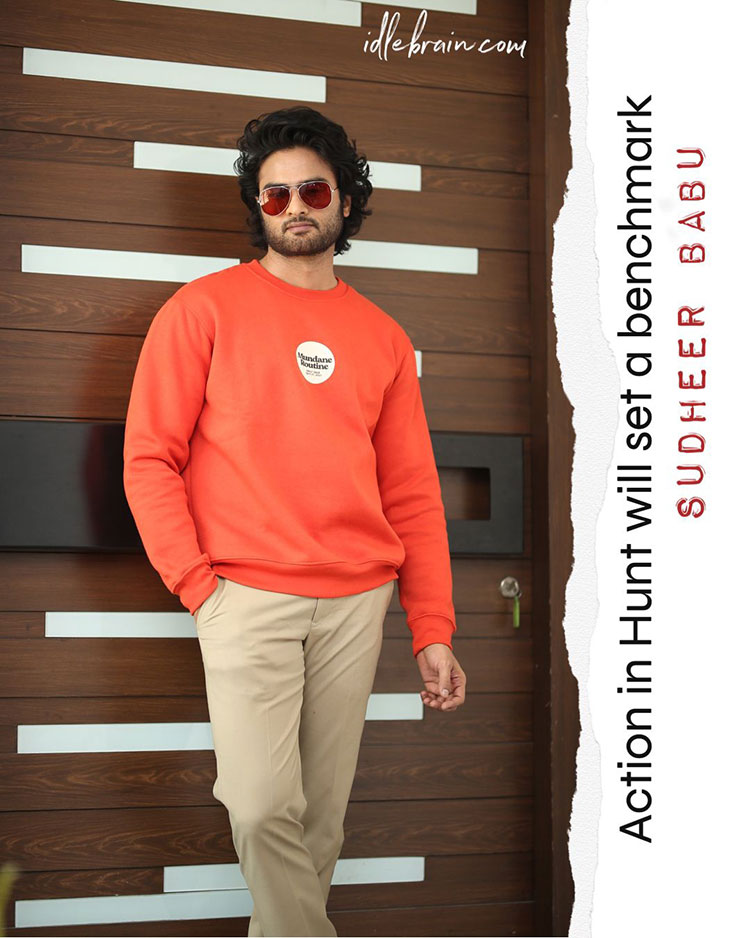 25 January 2023
Hyderabad
Ever since its trailer dropped recently, Hunt, starring Sudheer Babu, is carrying a good amount of buzz. The film, directed by Mahesh Surapaneni, is a police procedural which sees Sudheer in the role of an upright ACP, who loses his memory after he is involved in a ghastly accident. Handicapped with partial memory loss, he is assigned the task of solving a high profile murder case with his intellect and problem solving abilities in 18 days. The film also sees Srikanth, Bharath, Mime Gopi, Kabir Duhan Singh, Mounika Reddy, Goparaju Ramana and Sanjay Swaroop in supporting roles. In an exclusive conversation with idlebrain.com, leading man Sudheer spoke about the film, the box-office performance of his last film, Aa Ammai Gurinchi Meeku Cheppali, his family coping up with the loss of superstar Krishna, his decade-old journey and Pullela Gopichand biopic.
Your performance in Aa Ammai Gurinchi Meeku Cheppali received widespread acclaim. Did the box office performance of the film affect you?
Yes, it did. My confidence took a hit. Aa Ammai Gurinchi Meeku Cheppali, I felt, was a very good film on par with Sammohanam but the theatrical revenue was not up to the mark. On OTT, however, it cut a great response. The views it generated caused a streaming giant to purchase Hunt. As it did well on OTT, we felt we didn't err creative-wise. I was telling myself: 'There are certain things which are not in my hand like the release date, the promotions and the mood of the audience'.
It has been more than a couple of months since the legend Krishna garu passed away. How is the family coping up with the loss?
It is very tough. I don't think the family has come out of it yet. They are trying to keep themselves occupied by being busy so that they won't think about his death. With aunt (Indira Devi), we knew she wasn't well and she had little time but Krishna garu's death was a shocker for everyone in the family. I think Mahesh has put his hand up and he's able to be that father-figure for the family. I believe Krishna garu will be among us and our next generations with the affection people continue to shower upon him.

Hunt has one of the most standout trailers of recent times and has you in a role that we don't seem to have seen you play. What have been the reactions so far?
The response has been unanimously good. Some of the people I know wanted to see me in an action avatar and they are happy to see me in Hunt. I felt people will notice the action part once they catch the film but they could notice in the trailer itself that the action is different. Before beginning the shoot itself, we wanted to avoid slow motion shots; we wanted to keep action as real as possible. It's an out-of-the-box film without a heroine track. We wanted stunts to be close to reality; we didn't want to design stunts against gravity. The emotional quotient is high in the film and we couldn't include it in the trailer because if we revealed it, we felt the audience would miss the main experience. The film has action up to required standard; it will set a benchmark and people will crave for me. But the main thing is that it's an emotional film.

How did the project materialize?
The production house Bhavya Creations approached me with the entire script. I've read it; made some changes and the makers agreed that my changes were genuine. (Director) Mahesh was suggested by Bhavya as he worked under the company for many films as an assistant director.

Were you required to undertake any prep for the role?
Whether the director wants me to come for a script reading session or not, I believe in my own prep. I generally spend some time with myself and the script to get a better understanding of the part I play. With some roles, I would like to go and experience them in real, whereas for some I try to create my own picture of the role in the head.

Talk to us about your role…
We've always shown cops as masculine, aggressive and loud characters. There are two shades to my character. One shade (Arjun A) comes across as an extremely confident cop, while the other shade (Arjun B) doesn't believe himself to be a cop. The latter is always confused and vulnerable. Even though it's one role, the audience will get to see different personalities. For me it was like a double role. Arjun B was tougher to play; he meets with a terrible accident, losing his partial memory. He doesn't even know that he is a cop; he suspects everyone around him. He doesn't have the confidence that he can discharge his duty properly. He, however, doesn't tell anyone that he has lost his memory. He was required to be subtle. There's a three-minute emotional scene and there are two-three such scenes in the film.

From the trailer, one can make out that the action seems to be slick.
We were on the lookout for a stunt choreographer who can keep the action absolutely real. We wanted the sequences to be long and at the same time, we needed skilled stunt men as well. Also, we wanted to avoid ropes so that the cameramen will have the flexibility to take longer shots. There was one person who I was following on Instagram for a pretty long time: Renaud. He comes from Campus Univers Cascades, France which is the biggest stunt school in the world. I got in touch with him. There were a couple of discussions with him and once I got the confidence he was the man for the action, I asked the production house to check out his profile. After discussions, he was zeroed in for the job. Most of the action was shot in France, while the setting will be shown as Hyderabad in the film. We had to plan four months in advance to shoot the action there. One chase sequence was choreographed by Anji master in Hyderabad. It will match up to whatever we shot in France.

Did the role take a toll on you both physically and mentally?
Not really! Over a period of time, I learned how to switch on and switch off. On the shoot day, I always try to be in the character mood throughout but once the director calls it a pack up, I'm back to normal.

What is it about Mahesh that impressed you the most?
One of my favourite directors is Indraganti garu. He gives a certain comfort zone to everyone from the light boy to junior artistes to leading lights. I could see Mahesh creating a similar environment on the sets of Hunt, wherein each and every person felt comfortable, went about their job without any pressure and shared inputs without thinking twice. It is the reason why I felt everybody gave their best to the film. He's also got a little bit of Gautham Menon's style of writing, with special emphasis on extracting very real performances. I'm sure he will get better opportunities after this film.

You've completed a decade as an actor last year. How do you look back at your journey?
If someone said to me after my first film that I would be a part of films like Sammohanam, Bhale Manchi Roju, Krishnamma Kalipindi Iddarini, Shamantakamani, Aa Ammai Gurinchi Meeku Cheppali, then I would've said 'wow'. And that's what I feel now. I'm really happy with whatever I've done films wise. The learning process is a continuous journey. I have no regrets. Some of my worst films taught me more. I wish some of my films did more than what they did. Sammohanam did well but I felt it deserved to do more.

Films like Bhale Manchi Roju, Shamantakamani and Nannu Dochukunduvate didn't set the box-office on fire despite earning positive reviews. Did that bother you?
Initially, it didn't because as an actor everybody said I've done very well. But right now it's time for the box-office to speak. I can do any different types of stories if box-office receipts are good. If they aren't, then you have to postpone a story that you fancy.

This is your first release of the year and Krishna garu isn't around to pass his verdict to you. What are your emotions like as the D-Day nears?
I don't know how to say this… After he watched Aa Ammai Gurinchi Meeku Cheppali, he rang me and came over for lunch. He liked the film and asked me to connect to the director. He spoke with Indraganti garu and wished him well. At that time, Hunt was running in my mind. I was thinking how he would react to the film because it's a daring attempt. Somewhere I felt he would love the attempt I made. I don't know… I'm sure he will be watching from somewhere and give his blessings.

Pullela Gopichand has been a passion project of yours. What's happening with it?
It is still in the pipeline. Every time it stops, something big is taking shape. The producers have exchanged hands. The official rights are now with Junglee Pictures. But before that, I will have three more releases this year.

-NAGARAJ GOUD