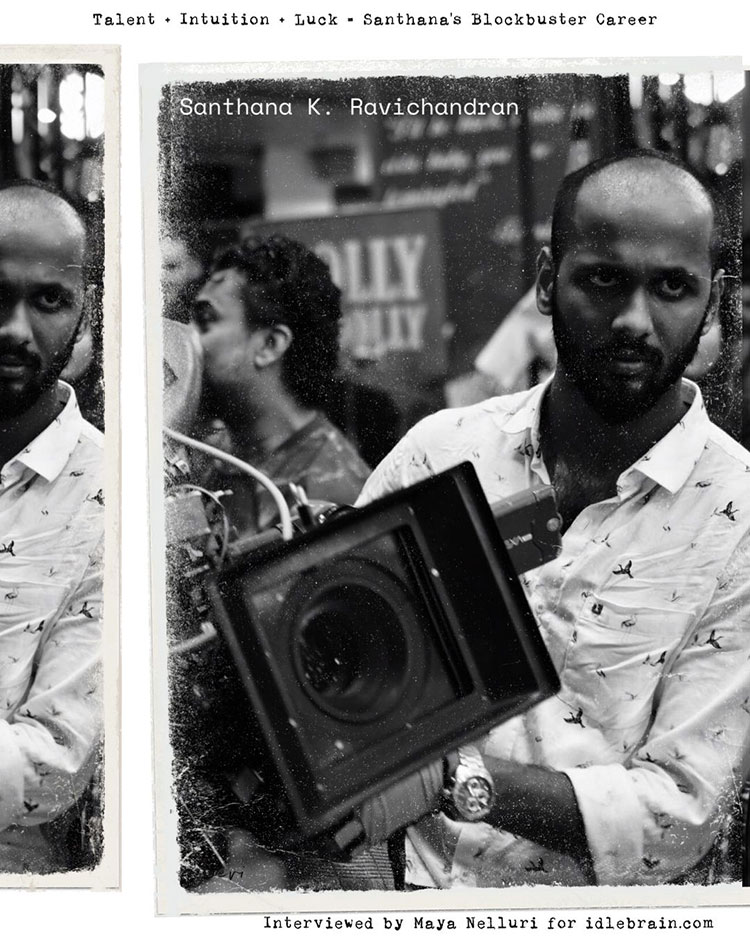 8th March 2023
Hyderabad
March 8th 2023 means only one thing - the eagerly awaited release of Ranbir Kapoor - Shraddha Kapoor starrer Tu Jhoothi Main Makkaar. New age director Luv Ranjan teamed up with gifted cinematographer Santhana Krishnan Ravichandran for this romantic comedy. Will this film add to the list of blockbusters like Two Countries, Baaghi 2 & 3, Kabir Singh in Santhana's kitty? Just a couple of days before the audiences' verdict is out, but until then, we've managed to get inside the mind of its DoP. Read ahead to find out how he manifested his unparalleled career and became one of the youngest, luckiest, and most successful cinematographers across India.

Tell us about your childhood.
Ever since I was a child, I was always surrounded by films. My dad used to watch lots of films from around the world – French, English, Korean. He had a guy who would give us DVDs. That's when I started falling in love with cinema. It became my passion and even my brothers'. He is also working in films now. We were both highly influenced by my father.

So, you always wanted to get into cinematography?
In college I wanted to get into direction. I enjoyed communicating a story, transforming a story. Films like Taare Zameen Par moved me. And every Rajamouli film makes you feel something – be it grandeur, sadness, love. So, I enrolled in a three-year direction course in Singapore. The location was mainly because my parents didn't want me to go too far from Chennai!

How did that course change your path?
I had already worked in films for four years by then and they were covering much of what I learnt. Hence, I didn't see the point of continuing to study there. Instead I decided to learn practically. They had a great global film library so I watched three films a day there for the rest of my time there. Once I got back I assisted cinematographer Neha Parti. While working I realised I'm very good at lighting, framing, it came naturally. And I would tell stories either way.

What is your first memory on set?
I was always on set. Actually, the reason I started working on set initially was as a punishment! My parents shipped me off to a set to work instead of hanging out with my friends and getting into more trouble. But the first time I ever went on a shoot set, I was in awe of everything – lights, actors, the chaos. I went on to assist Ayananka Bose, Ravi Varman, Manush Nandan on several projects. I assisted as many DoPs as I could get the opportunity to.

What was the first film you worked on?
The first film I officially worked on was Anjana Anjani. And by 21 I was a DoP. Over the years I've done other projects too, like commercials, which I've done over 400 of. Few even won awards across the globe so the last 8-9 years have been brilliant.

Do you see yourself getting into direction going forward?
I love to create so I might get into creative producing in the future. Probably not directing.

You've had an extremely successful streak right from your debut. How do you pick your films?
I try to take up films that will connect to a large audience. I'm a fan of commercial cinema. I don't believe in making films for niche audiences. And I've always had a knack for seeing the potential in the films I take on. I can usually predict if a film will work. When I read the script for Baaghi, and while we were shooting it, I thought it would become a blockbuster; and it did.

What sets your work apart according to you?
I shoot each project depending on the subject. My Malayalam debut Two Countries doesn't look like my Hindi Kabir Singh. Tu Jhoothi Main Makkaar is my first romantic-comedy so I was excited to work on it. I wanted it to look like eye candy, soft, nice, pretty and colourful. I wanted the audience to feel like it's a fairy tale love story. I wanted the colours to pop but it can become tacky quickly so a lot of team work went into making everything subtle, soothing, appealing. It took a lot of time figure everything out and get the result you see now.

How was it working with director Luv?
He became like a brother to me over the 180 days of shoot. The collaborative process was amazing. Luv doesn't have a script and this is the first time I'm working without one. He knows what is going to happen from point A to B to C but the rest is instinctive. We come on set and it just flows. He is very easy to work with. He has a very practical, neutral, and specific style. He was also the producer of the film, but unlike others he only ever wanted to make the film bigger, grander. He never cut corners.

And the stars onscreen?
This is my first time working with Ranbir. He is a fine actor, very understanding and easy to work with. The first project I assisted for, he was the protagonist. Ever since it has been my dream to shoot him, show him the way I like to see him. I've worked with Shraddha in multiple projects earlier so she is a friend by now.

You've worked across various languages in Indian cinema. Was that a conscious decision?
I was born and brought up in Chennai. I started my career in Malayalam cinema – the best stories actually come from there. But my career happened in Bombay, I started off assisting there. So, I like hearing scripts regardless of the language to see what works. There's good scripts in all languages. It takes the same amount of effort to make a bad story as it does a good one so it is better to do films that you believe in. But what intrigues me most about any project is the director. Their ideas, thoughts. It is nice to work with people who are dedicated and come with a vision like directors Sandeep Vanga and Anand Shankar.

Would you recommend other aspiring cinematographers study before entering the industry?
Studies are very important if you are not from a film background. When you enter film school you dedicate those years to cinema, to learn about its history, figure out what cinematic grammar, style you like. You will never get that time again to focus on studying cinema later. If I have time I'd like to go to the New York School to study further. If you have the time and money I would highly recommend going to school.

What advice do you have for those wanting to follow your footsteps?
I still have a long journey ahead so I can't dole out advice yet. With work I tend to look forward and think about how to make the next project successful. I enjoy making films. I want to do work that gives me creative satisfaction and entertains me. I also don't want to be stereotyped so I've varied the types of projects I've picked. Thinking back, I got into cinema because it was fun. I like to laugh, have fun while working. A lot of DoPs are angry on set. It is such a fun job – why be angry? I know a lot of things can go wrong on set including human error but I focus on solutions rather than getting angry. I believe success happens if you are having fun and if you have a positive attitude and vibe.

Lastly, tell us about your experience working with your father – the legendary cinematographer Ravi K. Chandran?
Living and working with him has been a constant learning experience. He has always been very supportive. But I only worked with my dad after I did my first feature film. I worked as a camera operator during OK Jaanu with him. And let me tell you, he is a very strict boss. He is also the most competitive person I've ever seen. When I was shooting Kabir Singh he was shooting Adithya Varma in Tamil and he said, "let's see which comes out better!"

- Maya Nelluri