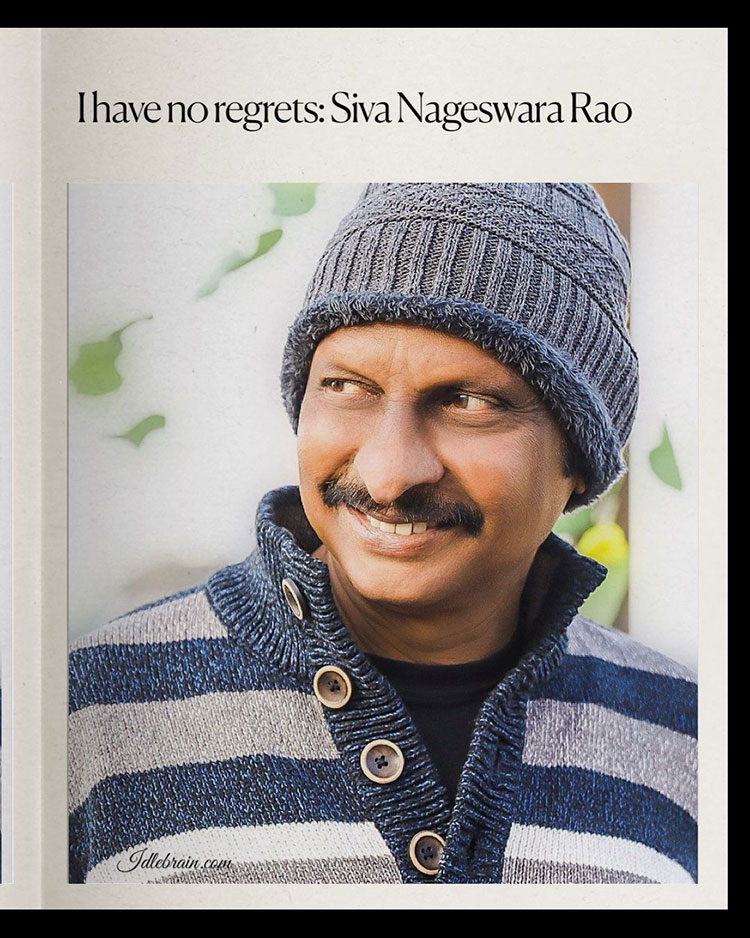 9th March 2023
Hyderabad
Filmmaker Siva Nageswara Rao, whose bona fides include popular films in the '90s like Money, Money Money, Sisindri and Pattukondi Chooddaam, is staging a comeback with Dochevaarevaru Ra, which sails into cinemas this Saturday. Rao's last effort as a director was Over Action. Despite completing censor formalities, it couldn't get a theatrical rollout due to various reasons. In between, he dabbled with YouTube, where his channel, Once More, received much traction. His persona and frankness discussing his past work as an assistant director, co-director and director on the channel won him new admirers. According to him, director Sukumar also praised him for the forthrightness with which he spoke on the channel. "I'm planning to restart Once More again soon," he tells us in an exclusive conversation.

In fact, it is the channel that helped him land Dochevaarevarura, as producer Boddu Koteswara Rao was another fan. The producer approached Rao somehow with the intention of making a feature. "Before deciding on the movie, he wanted to travel with me for 10 days. He was in the US back then. We used to converse on the phone daily. On the seventh day itself, he said he will pool in resources for my next," Rao informs. "Initially, I pitched him a different story. He came to India and said that he wasn't confident about it. Later, I told him a new story altogether. That's how Dochevaarevarura took shape."

From Ram Gopal Varma to Anil Ravipudi, Rao has utilized the services of most filmmakers on his speed dial to spread a word or two about Dochevaarevarura so far. With 30 years plus in the industry, does he still get jitters before a film of his opens? "I'm very confident about Dochevaarevarura. I've recently screened the film to people who I don't know. The hall had a capacity of 80 people but 90 people watched it. They all liked it and I felt very happy that day," he exults.

Per Rao, the film has multiple tracks– involving a boy and an adult, two identical twins and lovers in a relationship– blended into the narrative, with Ajay Ghosh playing dual roles, while Bithiri Sathi, in a first for him, will be seen as PK Sathi, a professional killer. "Sathi is a freelancer with a silencer," Rao smiles. "From first frame to last, the film will not annoy anyone; it will entertain throughout. It will touch the audience's heart in the second half. If it's just a comedy film alone, people will wonder what it has after they exit the halls. Which is why, I peppered it with a heart-touching emotion, which will haunt the audience more. The track involving the boy is inspired by the classic Life is Beautiful (1997). It will be a touching affair. Ghosh has a duet song, with Sathi too having one song. Hero-heroine has a song. And there are a couple of background songs as well, with Chandrobose singing one and actress Sunaina (Oh! Baby fame) singing another."

He continues, "Every time we go out of our homes on work, one or other guy tries to rob or deceive us. The film talks about how cleverly we can come out of it and the care we should take to not fall prey to such acts."

While early on in his career, Rao tasted much success and critical acclaim, he couldn't replicate the same in the aughts. The question draws a smile as he answers, "I've never chosen a producer. I've done films for producers who approached me. Maybe that was the problem… because he has to love the film and promote it at length. Mr and Mrs Sailaja Krishnamurthy is a good film and people still talk about it but wasn't promoted well. Like a director, a producer is also very important for a small film. He has to have that passion."

As a filmmaker didn't he think he went wrong somewhere? He says after a pause: "I don't think I went wrong. Ultimately, it's destiny. I never planned anything until now. Also, I don't approach people to do a film. There were instances where I told people that if their lifestyle takes a beating, don't do the film. I only encouraged producers who were stubborn." Did he err with some of his choices? "Photo, which was released in 2006 and which introduced Anjali, was not my kind of film. It was a horror movie. I have no regrets and I feel proud of myself."

He believes audiences post pandemic are actively seeking content-based films. "Also, most people are not visiting theatres. They are rather comfortable sitting at their homes and consuming different types of content. To bring them to halls, the content should be special and more engaging. It is the reason why for the first time I created things which didn't exist before for Dochevaarevarura. There is a pan-global song, Lapati pakala soolle maala soolle baaku, penned in a language called Kaikiksena. I wrote it," he marvels.

Moving forward, Rao wants to explore the OTT field and has a crime thriller ready. Up next though, he wants to make more features. His next, a comedy thriller, will be once again with Boddu Koteswara Rao. "Other people are also approaching me but I have to select the producer," he states, with a grin.

Rao was one of the pioneers when it comes to starting the sequel trends in Telugu cinema, as his Money Money (1994) was one of the first sequels ever made in Telugu. If he were to make a sequel to one of his other films from his oeuvre, what would that be? "I can make Sisindri 2. Back then Nagarjuna was a big advantage for that film. If I have the same advantage and if the munchkin is a star material, I can do Sisindri 2," he shares.

Rao is "proud of SS Rajamouli and team for putting Telugu cinema on the international map with RRR". "After Naatu Naatu was nominated for Oscars, I recorded three whistles, typed Naatu subhakankashalu and sent it to Rajamouli. He replied back, saying many thanks," he concludes.

-NAGARAJ GOUD