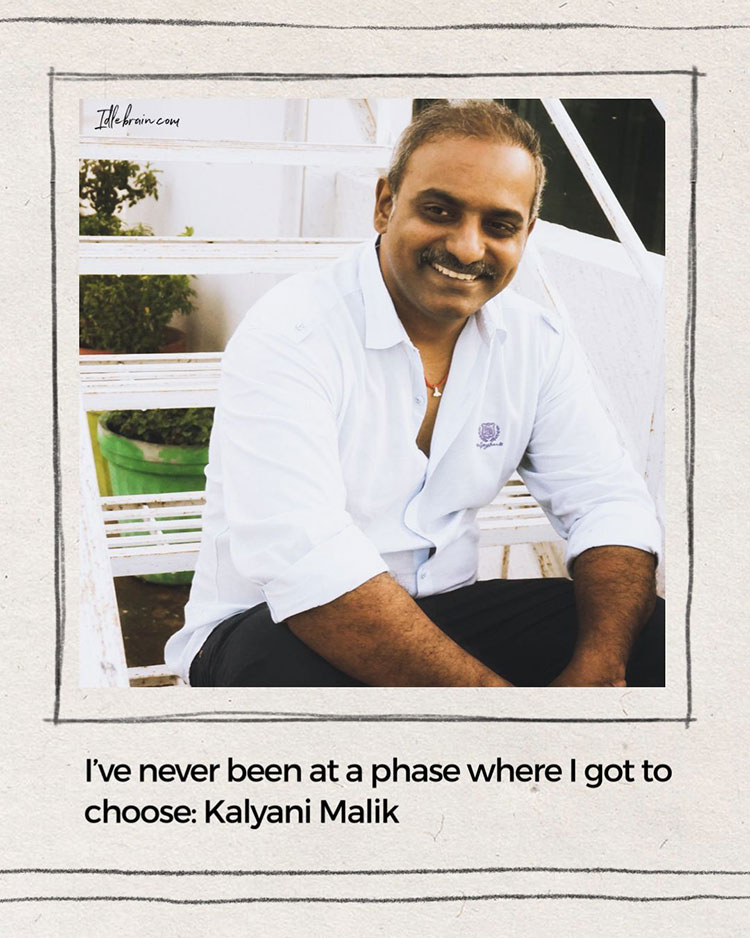 16th March 2023
Hyderabad
With Phalana Abbayi Phalana Ammayi (Papa), Kalyani Malik is back in action and how! The songs from the album have been met with fantastic response and the composer is naturally on cloud nine. In particular, the melody Kanula Chatu Meghama from the soundtrack has got the internet talking. Even his Oscar-winning brother MM Keeravani couldn't stop raving about it when it released last month. "Avasaraala and Kalyani Malik's latest " Kanula Chaatu " song is a very soothing and beautiful melody in loop," he had tweeted. In an exclusive conversation with idlebrain.com, Kalyani Malik spoke about his brother winning an Oscar, what went into the composing of Kanula Chatu Meghama, how his relationship with Avasarala evolved over the years, his favourite composer from the current lot, his two decades journey as a composer and more…

Hearty congratulations on your brother Keeravani winning an Oscar. It must be pretty exciting for the family?
Thank you. Of course it's a big achievement. In life you want to witness such moments and it transpired. Obviously it gives you a high. In addition, it increases your responsibility more. Generally speaking from now on you dream of Oscars in other categories as well. It's simple. If I get a state award, I long for a national award next.

Did you manage to speak to him?
He is in a state of rush but I managed to text him. He is very happy and when you receive such honours, a certain sense of shyness will creep into the family. We don't know how to express it. He will, however, not have that air about bagging an Oscar. When he won state and national awards previously, he took it very lightly. But then Oscar is something you get outside India and it will be thrilling for a while but it will wear off after some time.

Coming to Papa, you were not the original composer for the film initially. What happened over there?
I don't exactly know what happened. Initially I thought I would be the composer of the project because of my friendship and past association with Srinivasa Avasarala. At first he tried various heroes for the project and one of them even green-lit but he didn't want me to be the composer of the film. After some time though, that actor was out of the project. But then the project continued with Vivek Sagar as the composer and Naga Shaurya as the lead actor. After Shaurya's arrival, I didn't know why they didn't think of me. Later COVID-19 struck and after some time Vivek Sagar too exited the project. Co-producer Vivek Kuchibotla rang me and approached me for the project last year. I was glad. I wanted to know whether there was a scope to change the song composed by Vivek because I don't like sharing screen names generally. On top of it, it was Avasarala's film. But then they told me that the song Vivek composed was already shot. It was released Wednesday. I did the rest of the songs and the background score.

What reactions have you got so far for the album?
When people connect to what you did, you will feel very happy about it. That's what is happening to me right now. The reactions have been marvelous. Some people are in fact writing essays. There are people who have listened to the songs 20-30 times. The response has been like eating 100 gulab jamuns at a time. I've got such a similar response for Aithe two decades ago. I consider myself lucky that even before the film release; Papa album was declared a hit. Mahati Sagar, a close friend of mine, appreciated me for the songs. Annayya also liked Kanula Chatu Meghama. He was in the US when it was released and said it was wonderful.

What was your reaction when you first heard PAPA's story?
I knew about the story two-and-a- half years ago itself. When Avasarala cracked the situation for Kanula Chatu Meghama, he gave me the reference of Lag Jaa Gale (1964 film, Woh Kaun Thi) by Madan Mohan. Initially, I was scared to take such an iconic song reference. I thought I would not be able to reach Avasarala's expectations. I couldn't crack the tune at that time. I left it. The script wasn't ready fully back then. Out of enthusiasm, he bounced the idea. When I got back to the project, he insisted that he wanted a tune in the style of Lag Jaa Gale. I wanted to reach at least 70 percent of his expectations and tried my best. The result is out there now.

Kanula Chatu Meghama has been a bona fide hit. What went into its composition?
I worked on the tune for two-three days and it was okay-ed from the five tunes I gave Avasarala Srinivas. The composition sessions for this film have been wrapped up pretty fast. Singer Aabhas Joshi is from Maharashtra and he has been following Avasarala Srinivas on Instagram for the past three years. Avasarala referred him to me. I got in touch with him and felt that he was the best bet for the song as he had a sonorous and mellifluous voice. I made him practice the songs two weeks before the recording. On the recording day, it was a cakewalk for him. The female voice was just limited to humming. Lipsika crooned it.

Is it true that you didn't use music for a majority of the scenes involving the lead pair after a certain point of their bond, in the film?
If I get a good name for the background score, the credit for it should go to Avasarala Srinivas. In the film, we left a lot of spaces without music. During the lead protagonists misunderstanding scene, we didn't have a score in the background. For some lengthy scenes as well, we didn't give the score as we felt the score would be the third person. When two people are having a misunderstanding, why should we enter their lives? We felt it's better to leave it without music. Pure silence will be more in the film.

Let's talk about the film…
It doesn't have twists and turns. There is no interval bang as well. It's a simple story. Two friends turn lovers, forge a relationship, go through their share of misunderstandings, go different ways and unite again in the end.

All of Avasarala's films have been light-hearted dramas. Did you ever propose to him to make a mass movie?
To tell you frankly I've never been at a phase where I got to choose. Srinivas Avasarala has chosen me for whatever reason and I feel great about it. I don't give suggestions. Whatever he gives me as a director, I have to do it better. If he comes across ideas, he will be ready to do it but he has to get such ideas in the first place, right?

This is your third film on the trot with him. How has your relationship with him evolved over the years?
We have become more mature as human beings. Life teaches you a lot, right? My experience with him has always been pleasant and very delightful. I cherish every moment I spent with him. A conversation with him is like eating a sweet. His sense of humour is great and he cracks light-hearted jokes at me. Traveling with him is bliss.

These days' mass songs are reaching the viewers fast, while melody is taking time…
What I've noticed all these years is that music is being seen more than heard. It has become more YouTube- centric. Gone are the days where one used a walkman to enjoy his favourite songs. With mass songs, they give you an instant rush of adrenaline, so it is natural to get attracted to them. But then they have a wider reach if a big star features in them. It is not the same when a small hero features in them. So, music has become hero-oriented as well. Viewers listen to a mass song if it features their favourite hero. If their favourite hero is not in the song, they won't. I feel sad about it. Any song should do well on its own merit. That is when great music comes.

As a composer, do you wish more mass films come your way?
No, I never wished that way. I only wished to do more films. I don't differentiate between mass and class films. If I get one film, I want to get three more and be busy. Let it be anything. It was my bad luck that Adhinayakudu and Boss didn't perform well at the box office. If they did, directors would have got the confidence to create mass songs with me. My life would've been different. My music would've gone into that mass arena as well. But if tomorrow someone gives me a mass film and if it does well, directors will go with me again. It boils down to success at the end of the day.

Next month, you will be completing two decades as a composer. How do you look back at your journey?
There are so many bad memories. Also, there have been so many ups and downs. More downs I say. That one up has always helped me whenever I was down. I have learnt so many things. I changed a lot; matured a lot. I never compare myself to others both from personal point of view and career point of view, so I don't get depressed. I have a lot of patience. And I will wait for that blockbuster film. As a composer, I believe in giving my best. If films don't do well, I will feel a little sad but I will not bother. I move on to my next film.

Any regrets?
Yes, back then when I started off, I was a hot-headed guy with a lot of anger inside me. I wish I wasn't that way. Now, I've changed a lot. In fact, I wished that I wasn't a music director. I felt I should have studied more. Those regrets are there. But now I don't have another way. In my journey as a composer, I moved ahead and went back as well. I'm hoping for better days.

Among your contemporaries whose work impresses you the most?
I like Devi Sri Prasad's work a lot and have a lot of respect for him. 80 percent of his work has always been awesome. I like the work he has done for Uppena. I was thrilled with his songs and background score for that film, and I spoke to him for 45 minutes on the phone about the film. He was the backbone and main hero of that film. For a film like Pushpa, he has time, money and support. There's Sukumar garu as well who constantly feeds you ideas. But for Uppena, he was handicapped in certain aspects and yet he belted out a super hit album.

Apart from music, what keeps you occupied?
If I am not at the studio, I'm mostly at home, spending time with my wife and son. You will never see me anywhere else. Also, I consume a lot of content on TV.

Aithe will be clocking 20 years next month. What's your fondest memory of composing for the film?
Every time a first time director approaches me, I immediately go back to Aithe days. For that film, we just went with the flow. Like me, it was the first film for cinematographer Senthil Kumar, art director Ravinder Reddy and director Chandrasekhar Yeleti. We worked previously on Amrutham together. I remember approaching Seetharama Sastry garu for lyrics and making Annayya sing the sole song. I was particular that he sang my first song. I worked under him as an assistant. My musical path got strengthened under him.

-NAGARAJ GOUD