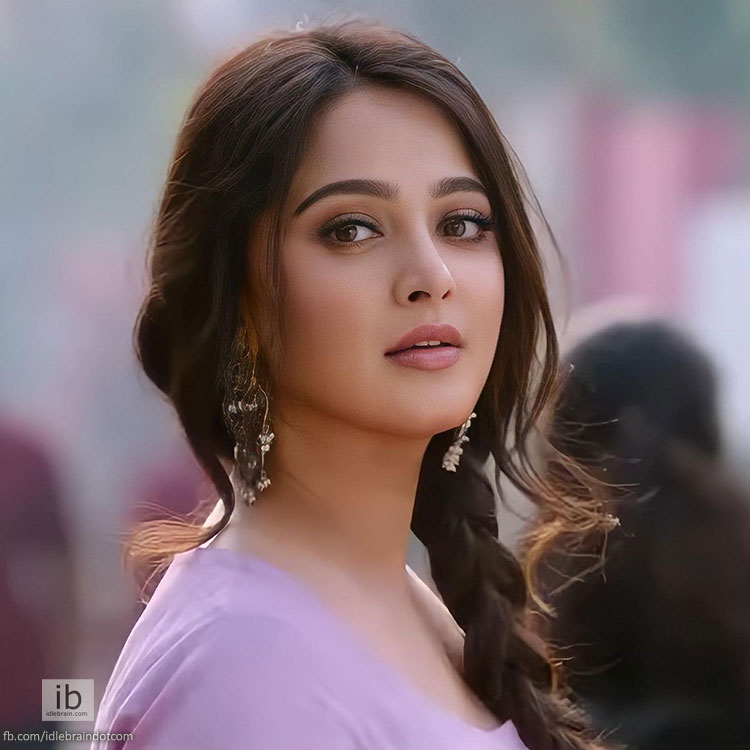 5 September 2023
Hyderabad
In an exclusive conversation with idlebrain.com ahead of the release of Miss Shetty Mister Polishetty (MSMP), Anushka Shetty spoke about missing in action, pairing up with a young hero, megastar Chiranjeevi's appreciation for MSMP, Kannada debut, how good a cook she is in real life and more…

We've been missing you on the screen…
I know it's been ages. I feel Miss Shetty Mr Polishetty is my first film again. When I did my first film, I didn't know what to expect. Now after five-and-a-half years, I have a release lined up. I have butterflies-in-my-stomach feeling.

The conflict point in the film seems to have multiple angles?
Yes andi. I think the credit for it should go to director Mahesh garu. Whether it's the story, the characters or the way he handled the emotions, he has done an amazing job.

When you heard the story, did you realize you were required to do the film with a young hero?
I heard the story through a common friend. One Vinay garu brought it to me. Me, Pramod garu heard it together and we loved it. At that moment I asked myself who is playing that role? But then the first thing was that I was already floored with the story. And the way Anvitha and Sidhu's characters were written, the (age) difference never came to my head but I feel the difference made it ever more beautiful.

The difference is the beauty of the film…
Yes, it is! From what I've done as an actor, it's the story, the character and the director that makes you. They are very important. That has been my mantra from day one.

How are you overcoming your nervousness ahead of the release?
I feel we have made something beautiful but at the end of the day, it is not about how we feel, right? The production house, the director and we as actors came together because we believed in the script. We enjoyed shooting it. We have given our best and came out with something beautiful. But then again, it's only when it goes to the audience and how they experience it matters.

Chiranjeevi garu already gave his verdict in favour of the film…
It was such a heartwarming moment and we are grateful to him for that. It meant a lot to us. We believed we told a simple story in a beautiful way. After seeing it, he pointed out everything. I've gotten a call and he told me that he liked this, that etc and all those were the points we believed in the film. When we were shooting we had an excitement that this particular scene will be enjoyed by the audience and he felt all those scenes, so that was very heartwarming. He was the first audience for us. Fingers crossed! I just hope the rest of the audience will experience it the same way.

It's a new-age concept. We haven't seen rom-coms with a big casting. After they reach a certain stage in their careers, actors are not doing rom-coms. They are getting into action or big canvas films. It's been a decade since we saw a big actor doing a rom-com?
I agree. I believe simple stories are difficult to make. But I feel if a bigger cast joins a simple story, it becomes a bigger canvas film. Whenever such movies work, it opens doors for some amazing content. For me it has to be either a big canvas film or the emotions need to be on a big canvas.
People started watching films from other languages and appreciating them. A well-made film in a local language is reaping rewards everywhere else. I think Miss Shetty Mister Polishetty has that potential.
Definitely, it's a novel story idea but then September 7 will decide everything.

From KGF series films to Kantara, Kannada cinema stood out on the Indian cinema landscape in the last three-four years. When are you going to do a proper big Kannada film?
I don't know when it'll happen but whenever I do it, I hope to do a film that will reach out to as many hearts as possible. I believe in that. People should carry the emotions of my films back to their homes. If something nice comes up, I'll definitely do it. I will be waiting for the right script.

Are you doing an antagonist part in your Malayalam debut?
I don't want to reveal it right now; we've just announced the film's name and dropped the glimpse. The production house has a vision to come out with the character introductions, so its better I don't reveal it now but I can definitely say one thing that it is something that I haven't done until now. It's definitely going to be nice. Not just my character but the entire movie.

Fans have been asking about your whereabouts. They are keen to see you on a public platform…
I know it's been a long time. It was a much-needed break I took for my personal reasons. Definitely soon I will go back to meeting all the fans and media people. Between, I would also like to say my thanks to all the support, love and warmth I receive. It means a lot to me.

You've played a high-flying chef in Miss Shetty Mr Polishetty. How well do you cook in real life?
(Giggles) I'm not a good cook. Mom is. I can feed a hungry stomach but I can't please the taste buds. I can do some dishes.

In addition to the Malayalam film, what else have you got coming up?
There are a couple of projects in the pipeline. The production side and the director team are working on them. As soon as they are ready, they will announce it.

Fans want to know if you are going to do a film with Rajamouli again or star opposite Prabhas.
I'm also wishing for it. Please make it happen. It will be a great story again. Hope so!