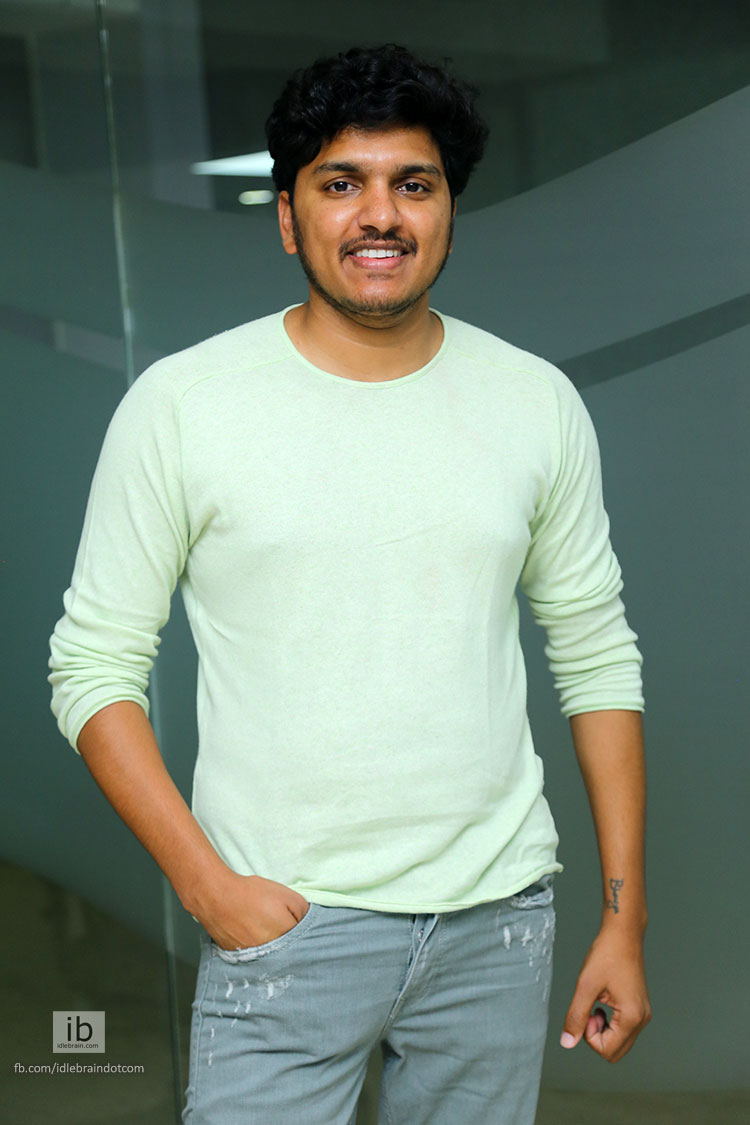 12 September 2023
Hyderabad
In an exclusive conversation with idlebrain.com, Miss Shetty Mr Polishetty director P Mahesh Babu talks about the genesis of the film, the reactions to the film, the best compliment he received, how did he pull himself up after Ra Ra Krishnayya, the pace of the film and much more…

P Mahesh Babu, the writer-director of last Thursday release Miss Shetty Mr Polishetty (MSMP), is soaking in all the appreciation he is receiving for the feel-good romantic comedy front-lined by Anushka Shetty and Naveen Polishetty. "I'm enjoying it. People around me – my well-wishers– are equally enjoying the success if not more. I'm glad to see them flashing their smiles. The kind of response I'm getting, I have become conscious about my next scripts," he begins.

Speaking about the response, he shares "that the most overwhelming thing that is happening to me is the reactions of the finest directors of Telugu and Tamil cinema". "They are talking about the film and its nuances. For instance Bharathiraja liked the film a lot. He spent one-and-a-half hours discussing the film, speaking in particular about my true intention behind some scenes. Singeetham Srinivasa Rao gave me a ring on Monday. He watched the Telugu version in Tamil Nadu. He spoke to me for about 45 minutes, enquiring about the shots, writing, dialogues, and when did I write a particular scene and was it there in the first draft? I was shocked to get his call in the first place. Conversation with him was like getting an award itself. I also read Rajamouli garu's appreciation tweet 20-30 times on the first day. Additionally, stars like Mahesh Babu garu, Ravi Teja garu and the directors fraternity are texting me and supporting the film on social media. The reactions from the general audience too have been pretty amazing. It's through them the film has got bigger," he informs.

The best compliment, however, was the one he received from revered Tamil actor-filmmaker K Bhagyaraj. "He said, 'I'm your fan from now'," Mahesh exults.
MSMP, in fact, is Mahesh's second film. His first film, Ra Ra Krishnayya, had come a cropper at the box office when it was released almost a decade back. Doors are generally shut on such filmmakers to bag that second elusive chance. How did Mahesh pull himself up all this while? "The stories that I wrote excited me. And the fact that I wanted to tell them to the audience desperately made me move on from my setbacks. Some stories don't materialize after a point or after they materialize, they stop. When such things happen, disappointments will be pretty hard. It's almost like I had a break up with the story. After a project of mine failed to take off, I didn't go to another hero with the same story. It was very personal. You love every moment of the story and you are keen on telling it to the audience, so I felt like I'm too busy all the time. My love for my career and cinema pulled me up every time," he muses.

Were there moments where he felt he had enough and wanted to embark on an alternative career? "Thoughts like, 'Will my film ever take off? Why are there so many stumbling blocks in my way' did run in my mind. But at every point, one or the other person believed in my talent, so that gave me hope and I continued again. Difficulties and setbacks are common. We have to go through them. It's through our focus and passion for cinema, we can bounce back," he reckons."

When he wrote MSMP, it wasn't meant to be headlined by Anushka Shetty. In fact, he planned to make it with new actors. "One day I happened to narrate it to Anushka garu's friend Vinay. At that time, I never thought of approaching her. Vinay liked what I narrated. He accidentally mentioned it to Anushka garu, saying he was thrilled with the story. She liked the point and pronto asked Vinay to arrange a narration. He rang me and said, 'Anushka garu is asking for a narration. Will you narrate it?' At first, I was reluctant, asking him why he narrated her in the first place. At that time, I didn't want to go with the stars. I wanted it to be a pure and grounded affair. He rang me again and said, 'It won't look nice if you don't narrate. Do it once'. So reluctantly I agreed but mentally I was like, 'Vinay garu liked the story and said the same to another person. If she likes the story, she will tell it to another person. That will be enough for me. Why would I want someone to tell me that my story is not good?'

"Later, I gave a sincere narration to her. She was joined by UV Creations Pramod garu as well for the narration. They got connected to the story and at the end of the narration she wanted to know about the cast. I said, 'Let me take some time. I want to think of actors after the dialogue version.' Pramod garu felt the story had a lot of depth and wanted to tell it from the point of view of Anushka's role. He just suggested. He wasn't the producer then. Later Anushka garu gave her confirmation. I made a few changes and a month later, I pitched it to her again. She said it was lovely and she would want to work in it. UV Creations came on board soon after," he elucidates.

MSMP, set in Hyderabad and London, narrates the tale of a high-flying and happy single chef Anvitha Shetty (Anushka) who wants to become a mother with the help of artificial insemination. She enlists the services of an aspiring stand-up comic Sidhu Polishetty (Naveen) for it and what transpires between them over it is told in a humorous way with a touch of drama. It was Mahesh's idea to have Naveen on board for Sidhu's character. "We wrote many names on paper and as I travelled with the story from day one, I wasn't happy with them. Sidhu's character had certain boundaries: he wants to be stand-up comic and shares a conflict with his father. Someone should sit in the character well. I had Naveen's contact number and I had reached out to him a couple of times previously. His Jathi Ratnalu hadn't been released until then. Suddenly it struck me, why not him? Since it was before Jathi Ratnalu, it was tough for others to digest his name. So it took some time for me to convince the producers. At the end of the day as they too travelled with the story, they felt he was the right choice," he recalls.

As an actor, Naveen believes in collaborative filmmaking. He throws his ideas around, involves in the creative side and improvises a lot on sets. How did Mahesh warm up to it? "It was always nice. Cinema, at the end of the day, is teamwork. We are not in a position to think we know everything. Also, their (actors) involvement is coming through their focus on their craft. They always hope for the story to come alive well on the screen. However, in the end what matters is how well you narrate the story on screen. We should welcome inputs but you have to take your call because it's your baby or the writer's baby," he notes.

The inspiration for the film's story came from a conversation he had with a female friend back in 2018. "During our conversation, my friend mentioned to me that the ultimate happiness for her comes through motherhood. To that my question was, 'If your happiness is through that, why are you getting married in between?' That conversation, I felt, had drama and was earnest. Through that I thought we can tell a story," he reminisces, adding that he wrote five drafts of the script before going to sets.

The film has a certain pace which is maintained constantly throughout the narrative. Didn't he bother about it being too slow or that he will be criticized for the lag factor? "I saw the momentum in the story. I kept checking the pace of the story, not the pace of the scene or the shot. If the story has a flow, sometimes we need not bother about the pace. Also, I was reading the script constantly, so I knew whether I was getting bored or not. If I felt there are chances for a scene to bore the audience, I ensured that I write and direct such scenes with more care," he notes.

In the film, Anvitha is on the lookout for a sperm donor to become a mother, while Sidhu thinks she wants to become a mother through physical intimacy (A hilarious sequence comes out of this confusion). For a guy who is a stand-up comic and completed his engineering, doesn't Sidhu know there are other ways for a woman to get preggers? Is it a creative liberty that Mahesh took? He answers, "Sidhu is so innocent, so true to his life that he is neglecting the fact that a woman can get pregnant through artificial insemination as well. He is so into normal life. For him to do a job and simultaneously do stand-up comedy is a big thing. He is afraid to share his dreams with his father in the first place. In his world, artificial insemination doesn't exist. The more he's innocent and genuine to his life, the conflict of the story increases, I felt. Anvitha is from an urban world, is a chef, comes to Hyderabad and aspires to have a child without getting married. It is completely alien thinking to him. He doesn't hear such things in his day-to-day life. That's why he thinks sex is the way for her to get pregnant," the director maintains.

Directors who have successfully delivered a hit film with UV tend to repeat the banner again for their next film. Is he going on the same path? "I definitely have a commitment with UV and I will honour that. I'm also looking forward to working with the finest producers of the industry," he states, adding that he is keen on telling a nice story next up again. "I will try to get the best out of my work again."

-NAGARAJ GOUD